Quality Tools & Controls
Your motorcycle tools, cables, and controls specialist!
Chat is Offline
Account
Motion Pro Hex Pro and Star Pro Wrenches
Apr 19, 2007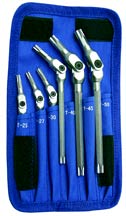 Allen and Torx fasteners are both great inventions. Easy to work with, and tough to strip out, these fasteners make a mechanics life easier, and take up less room than a similar hex head fastener.
Now, there is a new tool available that offers increased convenience and usability. Like so many Motion Pro products, it was a small, innovative change to a common tool that will change the way you work on your bike or ATV.
The Hex Pro and Star Pro wrenches are similar in proportion to a common L-angle Allen or Torx wrench, but with one important difference- there is a pivot at the place where a solid 90 degree bend used to be! Because of this, the Hex Pro and Star Pro wrenches can reach tight areas like a ball end wrench, but you can employ higher torque without damaging the tool or the fastener. Also, instead of removing the tool and repositioning it if you come up against an obstacle, you simply flip the pivot over! You will be amazed at what a difference this small change makes. Star Pro and Hex Pro wrenches are made from heat treated alloy tool steel, and have a chrome plated finish for durability and a high quality look.
The Hex Pros are available in both metric and SAE kits, and the Star Pros fit the most common Torx sizes. Each set comes with a handy storage pouch to keep them organized. See your local dealer to order or for more information.
Hex Pro Wrenches
Metric: 3, 4, 5, 6, 8, and 10mm sizes. Suggested Retail $45.99
SAE: 3/16, 7/32, 1/4, 5/16, and 3/8" sizes. Suggested Retail $43.99
Torx: T-25, T-27, T-30, T-40, T-45, and T-50 sizes. Suggested Retail $49.99
Featured Products
All Article Tags