Quality Tools & Controls
Your motorcycle tools, cables, and controls specialist!
Account
News
Endurocross is Growing
posted Jul 11, 2008
Tags:
Racing
All Article Tags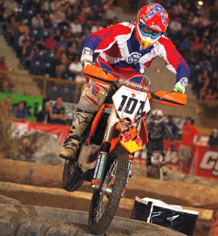 Everyone is familiar with Supercross racing and Enduro racing. Supercross is action packed motocross racing in a stadium with huge jumps, whoop sections, berms, and close exciting racing. Enduro racing takes place in the outdoors, with all sorts of natural obstacles like tree, logs, rocks, mud, and sand. However, as exciting as Enduro racing can be, it is hard for spectators, since the courses often follow long routes over varied terrain that makes it hard for spectators to see all the action.
A few years ago, promoters Eric Pernoid and Tim Clark brought the concept of combining Supercross and Enduro racing together in Las Vegas. They decided to call it Endurocross. The event takes place in an arena and includes obstacles like logs, rocks, sand, water crossings, jumps, berms and other challenges. Racers run a race over 8 laps, and it is endurance, skill, and a little bit of luck that will determine the winner.
In 2004, 2005 and 2006, there was a single event each year at the Orleans Arena in Las Vegas. For 2007, the event attained AMA Championship status, expanding to a three event series taking place in Guthrie, Oklahoma, Denver, Colorado, and the finale again at Las Vegas. The Endurocross has always featured a generous purse, with previous winners taking home $10,000 from the single event. In 2007, there was over $40,000 available to racers, with a $50,000 bonus for a racer who pulls off the feat of winning all three races! If everything went right for a lucky racer, he could have taken home $71,000!
Last year, David Knight, the Isle of Man resident and leader of the Factory KTM Off Road team had won the first two races at Denver and Guthrie. David is one of the most dominant off road racers in the world, and is a two time World Enduro Champion in addition to being the current 2007 GNCC champion. He has put his considerable skills to good use in the Endurocross, and his well-known endurance and strength has been a big advantage as well. He also won the 2005 Endurocross Championship.
Unfortunately, the Triple Crown barely eluded Knight in 2007. While leading much of the race in Orleans Arena at the finale of the season, Knight was narrowly beaten by KTM teammate Taddy Blazusiak, denying him the big payoff. Predictable racing is just not possible with Endurocross, you never know what's going to happen, and it will keep you on the edge of your seat!
The Endurocross series has attracted many big names in the motocross and off road world, including John Dowd (the 2006 Endurocross Champion), Ryan Hughes (the 2004 Champion), Ricky Dietrich, the 2006 WORCS Champion, Ty Davis, Nate Woods, Geoff Aaron, and many others.
In 2008, the Endurocross series now comprises 6 rounds across the nation. David Knight will again be competing for a second shot at the Triple Crown payday. You can be sure there will be many more talented riders from many disciplines eyeing the big prize as well.
It not just about the pros though, as there are several other classes for the amateurs to run in, and now in 2008, there is an AMA sanction for the amateur classes, where ambitious riders can compete for an AMA National Endurocross Championship!
Motion Pro has always been a dedicated supporter of all kinds of racing, and Endurocross is no exception. We have been a sponsor since the beginning of this exciting new form of motorcycle racing, and are proud to be a part of such a successful and entertaining concept, one of the few fresh new ideas in motorcycle competition. Like Supercross, Endurocross is bound to leave an indelible mark on the history of racing.