Quality Tools & Controls
Your motorcycle tools, cables, and controls specialist!
Account
News
Destry Abbott ISDE Fundraiser
posted Jul 17, 2008
Tags:
Racing
All Article Tags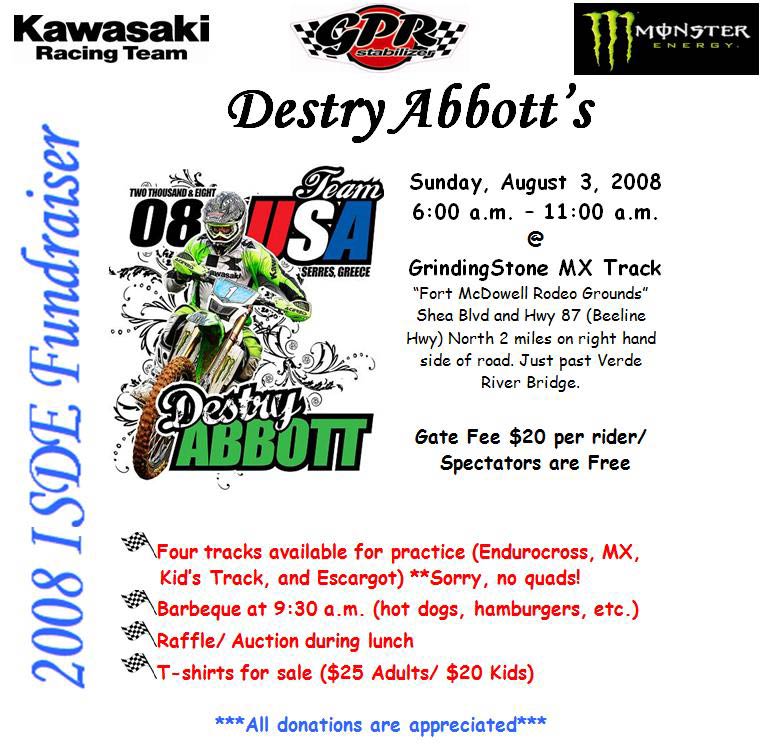 For more information email Destry at kxabbott@hotmail.com or check the www.destryabbott.com message board for periodic updates!
Special thanks to: GrindingStone MX Track, Fastr MC, Rock Stars, Kawasaki Racing, Monster Energy, Dunlop, Stephen Gall Training, GPR, Thor, IMS, Shoei, Pro Circuit, Kawasaki Accessories, SIDI, Acerbis, CTI2, Jonre Multimedia, BRP, Motion Pro, Works Connection, OGIO, Kicker, Hinson, Hoy Fox Toyota, AP Designs, Braking, Renthal, Scott Goggles, Team Hawg Racing, Twisten Wrenches, Cyto Sport, Red Baron, Trick, Zip-Ty, RK/Excel, N-Style, Maxima, ZLT, Bent, Steahly, Parkway Chiropractic, and Tire Balls.