Quality Tools & Controls
Your motorcycle tools, cables, and controls specialist!
Account
News
posted Sep 15, 2008
Tags:
Product Press Releases
All Article Tags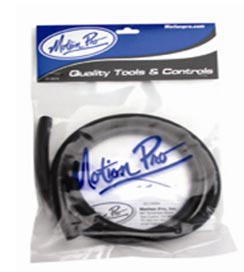 Motion Pro offers a huge range of fuel line in many different materials and sizes for almost any application. Previously available only in service department sized 25-foot rolls, all Motion Pro fuel line types and sizes are available now in convenient 3-foot lengths, packaged individually, so that you can get the fuel line you want without having to buy a lifetime supply.
New for 2009 is the LP (Low permeation) fuel line. This new fuel line meets the 2008 C.A.R.B. and EPA fuel line permeation standards for motorcycles, ATV, Snowmobiles, PWC, and small engines and is available in 1/4 and 5/16 in both 25-foot rolls and convenient 3-foot sections.
Motion Pro fuel line and other products are available through your local motorcycle dealer, or directly through the Motion Pro website at: http://www.motionpro.com
About Motion Pro, Inc. - Motion Pro was founded in 1984 by Chris Carter. The company designs and manufactures quality control cables, throttles, levers, tools and accessories for the powersports market. Motion Pro products are available through all major distributors.