Quality Tools & Controls
Your motorcycle tools, cables, and controls specialist!
Account
News
Team ATV World Yamaha Finishes British Quad Championship 2nd and 3rd
posted Sep 29, 2008
Tags:
Racing
All Article Tags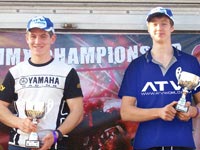 ATV World Yamaha rider John Mitchell took the overall win this weekend in spectacular fashion at the final round of the ACU British MMX Quad Championships 2008. His team mate Paul Holmes continued his recent superb form and finished second overall as team ATV World dominated at the Oxfordshire track.
Race One: John was 11th on the start line but got an excellent start, going fourth into the first corner. John then moved into third place where he went on to finish. Meanwhile Paul Holmes had a solid race finishing behind John in fourth place.
Race Two: Making second place off the start line, John quickly passed Leon Beda to take the lead and pulled away. John rode well on his ATV World Yamaha YFZ450 and took a commanding 25 second lead and taking the win. Paul Holmes was also riding well and on the penultimate lap, passed Justin Reid, just in time to take an exciting third.
It was John Mitchell first and Paul Holmes second overall and an impressive day for Team ATV World Yamaha.
With the victory at the final round, John Mitchell finishes the championship in a superb second place despite his initial injury problems. Paul Holmes success in the final race meant he passed Ricky Tordoff on points and took an incredible third place having already won the under 21 Championships in the previous round.
The final ACU British MMX Quad Championship Standings 2008:
1. Paul Window - Honda
2. John Mitchell - ATV World Yamaha
3. Paul Holmes - ATV World Yamaha
John Mitchell: "After my injury at the start of this year, I feel that I only really got going mid season. I'm pleased to have finished the second half of the season with consistency and great race pace which has secured me a second place finish. Throughout, my team sponsors have been superb. I'd say that there has been fantastic development on the 2008 racing package which has improved exceptionally throughout the season. Thanks again to all my sponsors, my friends and family. In particular to ATV World, my dad George and my wonderful wife Ann-Marie who have been there all the way for me."
Paul Holmes: "I'm really chuffed about today! I've exceeded my expectations for this year. After last years finish of 10th, I was aiming for a top five finish but to get third place is just unreal! I'm really happy I also retained my under 21 British Championship title too!"