Quality Tools & Controls
Your motorcycle tools, cables, and controls specialist!
Account
News
posted Feb 13, 2009
Tags:
Product Press Releases
All Article Tags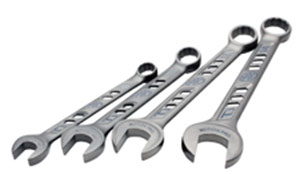 Titanium is to motorcyclists what gold is to almost everyone else. In the 1700's, if motorcycles had existed, alchemists would have been trying to turn lead into titanium instead of gold.
Titanium is that wonder metal that everyone lusts for on their bike. Ti exhaust systems are not only light, but they look beautiful, and make your buddies jealous. There is a specialty manufacturer in Italy called NCR that is making a limited edition bike with an air cooled Ducati motor, and it not only has a titanium exhaust, but a Ti frame and swingarm, connecting rods, valves, and all of the fasteners. It also costs $130,000.
Are you a titanium junkie? Then Motion Pro has some cool goodies for you, and they are a lot cheaper than the NCR Ducati. We are proud to announce the Motion Pro TiProlight™ Titanium combination wrenches. TiProlight wrenches are available individually in 8, 10, 12, 13, and 14 mm sizes, or as a set of four (8, 10, 12, 14 mm) in a durable nylon pouch. Why titanium? Isn't your regular steel set just fine for everything? Most likely, in most circumstances. But these wrenches are extra light, and designed to be yet another super cool Motion Pro Tool Pack accessory designed to lighten your load on the trail. All off road riders who use a tool pack know what it's like to have a pack that feels like a boat anchor. All that weight back there can be very tiring and hard on your back too. But you have to have tools on the trail. So, like the now famous Motion Pro T6 Forged Aluminum Tire levers, these titanium combination wrenches will help keep your pack light and wow your friends with the ultimate in super light trail tools.
The TiProlight Titanium wrench set (p/n 08-0466) comes in a handy ballistic nylon roll pouch to keep then all together and in good condition. Priced at $99.99 retail for the set of 4, this is some cool titanium just about anyone can afford. Visit us on the web at www.motionpro.com or call us at 650-594-9600 for more information. Motion Pro products are available from all major distributors.