Quality Tools & Controls
Your motorcycle tools, cables, and controls specialist!
Chat is Offline
Account
Motion Pro Spoon Tire Iron
May 17, 2007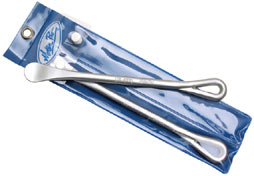 San Carlos, CA., October 23, 2006 - Motion Pro's
Spoon Tire Irons
are especially handy for trail-side use, but also great for the home or professional mechanic. This tool is compact and light, yet provides excellent leverage. The thin profile and wide spoon shaped lip is designed to keep the tip of the tire iron away from the tube to prevent pinching, and the ergonomically designed curved handle will fit securely in your hand.
You'll want to have at least two of these on hand, and they won't break the bank with such a low suggested retail price of only $14.90 each (Motion Pro part #
08-0115
) or you can purchase a set of two with a pouch for only $27.50 (Motion Pro part #
08-0409
). These professional tire irons are finished in hard nickel pewter, and are recommended by top tire changers everywhere.
Featured Products
All Article Tags