Quality Tools & Controls
Your motorcycle tools, cables, and controls specialist!
Account
News
The Final Round Of Press Releases From The AMA Pro Road Races At Daytona
posted Mar 9, 2009
Tags:
Racing
All Article Tags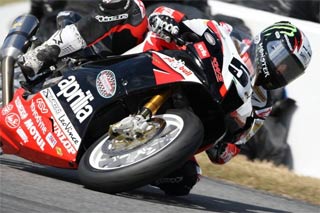 Editorial Note: The results included with Kawasaki's press release are incorrect. To see the correct Daytona 200 race results, go here: http://www.roadracingworld.com/news/article/?article=35780
From a press release issued by Kawasaki:
Monster Energy Attack Kawasaki Riders Inside Top-10 at Daytona 200
Daytona Beach, Fla.' Monster Energy Attack Kawasaki riders Jamie Hacking and Leandro Mercado put forth an incredible effort during the 67th annual Daytona 200 at Daytona International Speedway. Hacking finished just off the podium in fourth and 17-year-old Mercado rode to an impressive ninth-place finish after a 23rd place start in his debut.
Happy with the Finish
Hacking came into the race with expectations of doing well, and his finish certainly made him happy. With limited time on the all-new Ninja® ZX™-6R, his finish just off the podium was a job well done.
"We've realistically only had a month to bring this whole thing together and I must say the team did a great job of putting me in the best position possible," said Hacking. "Every racer wants to win, but the finish we had was still great considering. We come out of here third in the championship points with (Ben) Bostrom not racing the class and I know we are only going to improve."
Incredible Top-10
The Daytona 200 was Mercado's first professional AMA race and he did more than expected when he not only finished the endurance race, but also went from 23rd at the start to finish inside the top-10 in ninth.
"It ended up being a great race," said Mercado. "I am very happy to not only finish, but to be in the top-10. It was definitely a long race."
Long Race
It has been a few years since Hacking had participated in the Daytona 200 endurance race. After an extended red flag, it seemed like it was going to be a long night.
"It's been a while since I last rode this race, and even though it's fun, I'm glad to have this race behind me."
Expectations for Leandro
Coming into the race, the team told Mercado that they just wanted to see him finish. There was not much pressure since he was a last minute replacement and wasn't anticipating he was going to compete in the Daytona 200.
"My first expectation was to finish the race," said Mercado. "Now that it's all over, I am pretty happy with the finish because I came into the top-10."
Quick Turnaround
He may be young, but Mercado showed skills of a veteran Friday night. It's easy to get impatient during a long race and try to charge too early. Mercado held his composure and made the laps count when he needed them to.
"Leandro is definitely going to start getting recognized here in the paddock if he hasn't already," said Mike Preston, Kawasaki road race manager. "He is a great kid and I am looking forward to seeing how he's going to do the rest of the year."
Pit Stops
The pit stop is nonstandard to the regular season of the AMA Pro Road Racing Series, but during the Daytona 200 it can make or break the race. The team has been known for their speedy pit stops and during the race, all pit stops were under 18 seconds.
"The team did a great job of making really clean pit stops," said Monster Energy Attack Kawasaki Manager Richard Stamboli. "We were fast and the riders were great reading their pit boards and it worked out really well."
Night Time
For the first time in the history of the Daytona 200, the race was held under the lights of the speedway. Since the race is usually run during the afternoon, it brought a new perspective to the race with different conditions and factors.
Looking Toward California
Now that the first race is in the books, the team can look forward to the upcoming race at Auto Club Speedway.
"We need to keep working and moving forward," said Mercado. "The bike is great and I am really happy. I know we can keep getting better."
Results
AMA Pro Road Racing Series Daytona International Speedway- Daytona Beach, Fla. March 6, 2009
1. Ben Bostrom, Malibu, Calif., Yamaha
2. Josh Herrin, Clovis Calif., Yamaha
3. Jason DiSalvo, Las Vegas, Nev., Suzuki
4. JAMIE HACKING, DENVER, N.C., MONSTER ENERGY ATTACK KAWASAKI
5. Shawn Higbee, Mukwonago, Wis., Buell
6. Chaz Davies, Carlsbad, Calif., Aprilla
7. Barret Long, , Miami, Fla., Ducati
8. Martin Cardenas, Miami, Fla., Suzuki
9. LEANDRO MERCADO, LODI, CALIF.., MONSTER ENERGY ATTACK KAWASAKI
10. Steve Rapp, Hawthorne, Calif., Aprilla

---
View original article at
http://www.roadracingworld.com/news/article/?article=35787