Quality Tools & Controls
Your motorcycle tools, cables, and controls specialist!
Account
News
posted Apr 3, 2012
Tags:
General News
,
Racing
All Article Tags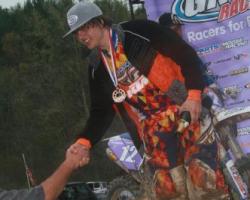 BAYLORUPD8: STEWARD BAYLOR, GRANT BAYLOR
4-1-12, GNCC Round 3, "Steele Creek," Morganton, NC
Determined to become the youngest and only rider to overall a GNCC from the second row, the 17-yr-old made quick work of lap one moving aggressively into the Overall spot where he stayed for roughly 4 laps before surrendering the position to Factory KTM/FMF rider, Kailub Russell. Baylor, Buttrick, and Whibley battled the entire race; and in the end, a mere second separated Baylor and Whibley for the runner up podium position. Baylor is now 3 for 3 in XC2 wins for a commanding 22-point lead; and sits tied with Russell for the 3-spot in Series Overall Points Standings. And no, you're not seeing double; because there's not one, but two Baylors on the series Top 20 list.
Not only does 14-yr-old Grant Baylor continue the 250A Points Lead, but he landed himself inside the Top 20 Overall Points standings after 3 rounds of racing. Grant finished an impressive 17th Overall on the day, taking 2nd in 250A after another battle with Yamaha rider, Aaron Plessinger. This extraordinarily composed rider knows that consistency will be the key to securing his second GNCC 250A Class Championship.
The brothers are looking to Round 4 in two weeks, which is in their home state of South Carolina.
Next up … April 14, GNCC Round 4, "Big Buck," Union, SC
GNCC STEELE CREEK TOP 20
1 – Kailub Russell
2 – STEWARD BAYLOR
3 – Paul Whibley
4 – Cory Buttrick
5 – Thad Duvall
6 – Jordan Ashburn
7 – Charlie Mullins
8 – Jesse Robinson
9 – Garrett Edmisten
10 – Jimmy Jarrett
11 – Takeshi Koikeda
12 – Brad Bakken
13 – Jedediah Haines
14 – Scott Grills
15 – Aaron Plessinger
16 – Corey MacDonald
17 – GRANT BAYOR
18 – Jason Thomas
19 – Zach Nash
20 – Cody Gragg
www.gnccracing.com
* KTM * WPUSA * Powersport Grafx * Fly Racing *
*FMF * St. Lawrence Radiology * KTM Hard Parts * KTM PowerWear *
* Leatt * Glory Hog * Silkolene * Renthal * BulletProof Designs * Scott-Sports *
* Shoei * Sidi * Asterisk * EBC Brakes * V-Force * IMS * Fastway * Evans Waterless Coolant *
* Cycra * Dunlop * Twin Air * TM Designworks * BaxTek QuickStands *
* Motion Pro * Ankle-Savers * Hinson Clutches *