Quality Tools & Controls
Your motorcycle tools, cables, and controls specialist!
Account
News
Mitchell Makes the Perfect Start with Maximum Points
posted Apr 15, 2009
Tags:
Racing
All Article Tags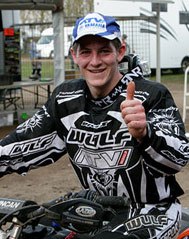 Team ATV World Yamaha rider John Mitchell was the star of the weekend's racing with an utterly incredible performance, winning both races in the first round of the ACU British MMX Quad Championships at Mildenhall. It was the first weekend that Team ATV World Yamaha had all the sponsored riders together and this provided the perfect opportunity to unveil to new race quads for 2009.
Riding at the Mildenhall track is very physically demanding and is renowned for its difficult passing opportunities. It's as rough as it gets but there was plenty of good weather and the team were in a confident mood following the success in last weekend's Scottish opener.
Not only was it the first time John had ever been to the Mildenhall track, he was riding for the first time on his ATV World Yamaha Laeger's YFZ450. Having made a great set-up during practise, John started race one well and managed to pull away from the leading pack. Battling with the flying Dutchman Joe Maessen, John was riding well and looked comfortable as he worked his way past Joe and won the race with a 36 second gap between himself and third place rider Jason Macbeth.
John got an even better start to race two, taking third position into the first corner. Again, John found himself battling with Joe Maessen but as they raced, they tangled and both came off the track. It was a disaster as John was in last place with the front riders a minute ahead. John picked up the pace and was soon working his way through the 28 other riders. With incredible skill, John eased past everybody and took the win. The team were ecstatic as John crossed the line taking maximum points from round one.
After the podium presentations John said; "This has been an absolutely fantastic weekend! My race quad has been just awesome. Very little to set-up, amazing suspension - it's once again given me total confidence to go out there and put in a good performance. I can see there's even more to come from that YFZ450 engine!
When I was dead last in race two I thought I'd be lucky with a top ten finish as the pace out there today has been electrifying. But the quad just rode great and I didn't tire, I just kept going. The track was extremely rough but the Elka Factory shocks were allowing me to take lines I didn't think were possible!
I can't thank the ATV World team enough for all the work they have put into making this happen. Thanks to Nick my team mechanic who has built a quad that was totally faultless. Now I'm really looking forward to Dunns in two weeks!"
| | | | | | |
| --- | --- | --- | --- | --- | --- |
| POS. | NO. | NAME | TOTAL | R1 | R2 |
| 1 | 111 | John Mitchell ATV World Yamaha | 50 | 25 | 25 |
| 2 | 101 | Joe Maessen | 42 | 22 | 20 |
| 3 | 3 | Paul Holmes | 38 | 16 | 22 |
Other team ATV World Yamaha riders started well with all the riders finishing race one. Last week's Scottish Championship winner Leon Beda took ninth while third fastest in qualifying Ricky Tordoff took 13th, Sean Goss 16th, Dean Thompson 20th and Josh Barrett 26th. In race two Sean Goss finished 13th, Josh 20th, Dean 26th, Leon and Ricky were involved in accidents and did not finish. All team riders commented on the incredible performance, particularly the Elka Factory shocks which gave them great confidence for the forthcoming races.
Next ACU British MMX Quad Championship round is at Dunns, Scotland on the 19th April. See you there!
Youth Team News: Tyler puts the Top in Topcliffe
It was three out of three again for Norfolk youth quad racer Tyler Soar age 15, the ATV World rider showed maturity beyond his years in a well executed points gathering at ACU Nett quad championships at Topcliffe, Thirsk nr York.
Race one and two followed the same format of putting as much space between himself and his only real rival on the day, Connor Smith from Scotland who is gaining in confidence and ability with every outing.
The well mannered rivalry was apparent and at its best in race three, where there was some electrifying riding from both boys as Tyler fought to keep Connor off his tail.
Unfortunately the pace became too much for Connor in the final stages which saw him off at a tricky bend and leave Tyler to cruise to victory, Connor unhurt remounted and finished a commendable fourth.
Tyler didn't come off unscathed as a blown rear shock in the early stages of the race had hampered his efforts. Both boys put in equalling lap times as there 450cc mounted championship counterparts.
This coming Easter weekend sees Tyler in action again at the ACU Southern area championships at the prestigious Culham Moto Park Oxfordshire, with two days of action guaranteed.
Thanks again for all the support from sponsors who along with their outstanding products have helped develop a potential championship winning team for the 2009 season.