Quality Tools & Controls
Your motorcycle tools, cables, and controls specialist!
Account
News
posted Apr 24, 2012
Tags:
Racing
,
General News
All Article Tags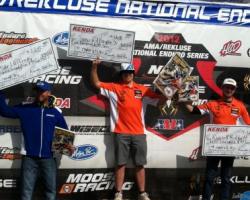 4-22-12, AMA/Rekluse National Enduro Series Round 4, "Rad Dad," Westpoint, TN
Fly Racing/KTM/Leatt backed Privateer, Steward Baylor, took the Overall win at round four of the AMA/Rekluse National Enduro Series, the Rad Dad Enduro held in Westpoint, Tennessee. Baylor dominated the race, winning all 6 tests, a feat not accomplished since Mike Lafferty swept the Foggy Mountain National Enduro back in 2009, some three years and 32 races ago.
With three wins in four rounds of racing, Baylor holds a commanding Points Lead of 24 points over Cory Buttrick, who sits 3 points ahead of eight-time Champion, Mike Lafferty. Three-time Champion, Russell Bobbitt is followed by Jordan Ashburn to round out the top 5.
Specializing in the GNCC Series, the 17-year-old is fast becoming a serious dual contender - but he's not the only young Baylor of that description.
Younger brother Grant sits just outside the Top 10 in 11th Place Overall National Enduro Series Points. The 14-year-old took the 250A win today in Tennessee, along with the Overall A spot. Grant boasts four wins in four races in the 250A Class, three of those paired with Overall A honors.
This week, the brothers prepare for Round 5 of the GNCC Series on Sunday, where the reigning XC2 ProLites Champion [Steward] has swept the class for a 36-point lead after four rounds. Grant defends the 2011 250A Title paired with the Top Amateur Title, and holds the 2011 points lead for both.
The Kentucky GNCC is followed by AMA/Rekluse National Enduro Series Round 5 in Louisiana, after which the Baylors head north for the Indiana and West Virginia GNCC Rounds, before heading west to Wyoming for another round of enduro racing.
Cycle News Report here: http://www.cyclenews.com/articles/off-road/2012/04/22/baylor-dominates-rad-dad-enduro/
Tune into http://www.facebook.com/baylorboysracing for breaking news.
---
View original article at
http://www.cyclenews.com/articles/off-road/2012/04/22/baylor-dominates-rad-dad-enduro/