Quality Tools & Controls
Your motorcycle tools, cables, and controls specialist!
Account
News
posted Apr 30, 2012
Tags:
General News
,
Racing
All Article Tags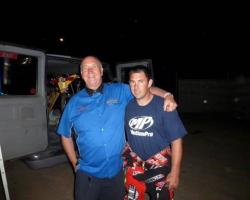 COAST MESA - April 28, 2012
United States National Champion Billy "The Kid" Janniro added another treasure to his burgeoning trophy case by winning the prestigious Jack Milne Cup at the world famous Costa Mesa Speedwaybegan its forty-fourth season.

Former National Champion Charlie "TheEdge" Venegas entered the main event with a perfect score and chose gate one. Janniro, who only dropped two points due tomechanical gremlins in his first race, picked gate two. Shawn "Mad Dog" McConnell, seeking his thirdJack Milne Cup victory in four years, selected gate three. Tyson Burmeister opted for gate four whichleft "Battling" Buck Blair in gate five.

Janniro launched from the startingline when the tapes went up and held the advantage entering turn one. His hope for a smooth victory was dashed whenhe drifted wide exiting turn four and Venegas pulled alongside him on the frontstraight. Janniro secured the lead inturn one and was in control for another lap before lifting badly exiting turnfour and approaching the white flag. Venegas charged up the inside but Janniro was able to fend him offagain. Janniro kept his bike on twowheels on the final lap and was first to the checkered flag. Venegas finished second, McConnell was third,Blair finished fourth, and Burmeister was credited with fifth after sliding offin the first lap.

The twenty-four First Divisionriders were greeted with tricky track conditions that certainly caught many ofthem by surprise. This created a lot ofpassing with some unpredictable results throughout the heats.

Janniro kicked off the heats by whatlooked to be a sure victory before a sputtering machine relegated him to thirdand "Fast" Eddie Castro benefiting from some good racer's luck. Joey "The Bolt" Holt led the first lap of thesecond heat before Jimmy "Little Animal" Fishback went by for the lead and thewin. Charles "Dukie" Ermolenko wasvictorious in the third heat.

The fourth race required tworestarts to complete, but it was the first attempt that led to the worstresults. Doug "The Destroyer" Nicol wentdown awkwardly in turn three and tumbled into the fence. He was down for a couple minutes beforegingerly walking back to the pits. Hereported on his Facebook page that he suffered four fractured vertebrae. Venegas beat McConnell in the third start.

Event five had to be restarted whenBurmeister went over backward on the first lap. The restart featured several lead changes, but when they crossed thefinish line it was Rick "The Rage" Valdez getting the victory. Round one ended with Northern California'sJ.T. Mabry beating Brad Pappalardo.

Janniro began round two with avictory despite a sputtering bike. Castro led the first lap of the next race before Fishback passed him andheld him off for his second win. Blairbeat Bobby "Boogaloo" Schwartz in event 18. Venegas made it two straight wins by beating Justin Boyle. McConnell, once a member of the BirminghamBrummies in the British League, beat a pair of former Wolverhampton Wolves,Ermolenko and Burmeister, in event 20. Aaron Fox beat Devin Defreece to finish the second round.

Janniro opened the final roundwithout bike problems and with a victory over Ermolenko. Fishback remained perfect by winning the nextheat. Castro passed Schwartz on thethird lap of event 33 for his second straight win. Venegas matched Fishback's perfect score bybeating Blair. Burmeister scored a victoryover Gary Hicks in the penultimate heat to get himself into the semis. McConnell finished the heats with a win overMabry.

Venegas continued his string ofvictories with a convincing win in the first semi while McConnell followed himinto the main by finishing second. Janniro easily won the second semi with Burmeister getting second andthe other transfer into the main.

Blair held off Castro in the LastChance to book the final spot in the main event field.

Eloy Medellin rode a smooth andcalculated four laps to earn the victory in the Support Main Event. Joe Donaldson finished second, J.D.Myerscough was third, Tim McGrath finished fourth, and Mike Salyer was creditedwith fifth.

Davey Shaw, the son of SouthernCalifornia speedway legend "Lightning" Larry Shaw, led the first two laps ofthe Support B Main Event before being challenged by Kayle LeoGrande. LeoGrande's pressure paid off when he tookthe lead, but Shaw didn't give up without a fight. LeoGrande entered the final corner with thelead but Shaw stormed up the inside with a lot of steam. Both riders went wide and Shaw won the dragrace to the checkered flag for the victory. LeoGrande had to settle for second, Mitch Pierson was third, CraigSprecher finished fourth, and Chris Popanz was fifth.

Newlyweds Dylan and Crystal Beardwon the battle of attrition and claimed the Sidecar Main Event. Harley-mounted Rod Requejo and Gene Stonefinished second, Bob Brayton and Steve Bumpass were third, and Stuart Glass andJack Straw were credited with fourth.

The Jack Milne Cup honors the 1937World Speedway Champion and speedway icon who was also an integral part of thefounding of Costa Mesa Speedway and its promotion for many years.

There will not be speedway racing atCosta Mesa next Saturday, but the incredible action returns for the OpeningNight on Saturday, May 12.