Quality Tools & Controls
Your motorcycle tools, cables, and controls specialist!
Account
News
posted Apr 30, 2012
Tags:
Racing
,
General News
All Article Tags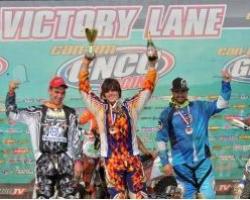 4-30-12 GNCC Series Round 5, "The Mammoth," Park City, KY
Steward Baylor remains undefeated this 2012 season, taking his 5th consecutive win at yesterday's "Mammoth" GNCC in Park City, KY.
"I knew I had the sprint speed to pull it off, so I did what I needed to take care of my wrist the first half of the race, and then dropped the hammer to pull away and grab my 5th XC2 victory of the year," Baylor remarks, referring to a wrist injury from last weekend's National Enduro.
The defending XC2 ProLites Champion's end of race charge landed him the fastest two lap times of the whole field. And with it, Baylor gained the 4th Overall position for the day, finishing on the heels of XC1 New Zeleanders Rory Mead and Paul Whibley, who took 1st and 3rd respectively, with American Charlie Mullins in 2nd. A commanding 45 Points Lead over the 2nd Place of Jesse Robinson now belongs to the KTM/Fly Racing/WP USA/Ride PG -backed Privateer of Baylor.
A huge GNCC XC2 ProLites Points Lead coupled with a commanding Overall Points Lead at the AMA/Rekluse National Enduro Series, establishes the 17-year-old dual contender as the favorite to seize both Championships this season - but he's not the only young Baylor of that description.
14-year-old Grant Baylor took yesterday's GNCC 250A win, along with Overall A honors, as the 2011 Champion defends both titles. He had a rough tumble in the first corner after another rider slipped over into him. This resulted in a dead last position and quite a time deficit most of the race. But the composed and steady rider put his head down and gained the time needed to take the class win as well as the Top Amateur spot for the day. FMF/KTM Team Manager Antti Kallonen commenting on Grant's first corner situation: "Grant is a true champion, he got up, calmly straightened his bars and levers and then got the job done."
This week, the brothers prepare for Louisiana's Round 5 of the AMA/Rekluse National Enduro Series on Sunday where, with three wins in four rounds of racing, Steward controls the Overall spot with commanding 24 point lead over Cory Buttrick, who sits 3 points ahead of eight-time Champion, Mike Lafferty. Three-time Champion, Russell Bobbitt is followed by Jordan Ashburn to round out the top 5.
Grant, now 4 for 4, hopes to continue his Enduro 250A win streak, and sits just outside the Top 10 in 11th Place Overall National Enduro Series Points.
AMA/Rekluse National Enduro Series, Round 5, Louisiana is this Sunday, followed by GNCC Round 6 in Indiana a week later.