Quality Tools & Controls
Your motorcycle tools, cables, and controls specialist!
Account
News
posted May 7, 2012
Tags:
Racing
,
General News
All Article Tags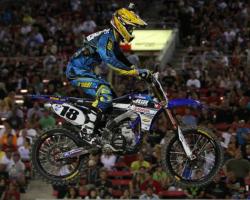 HUNTERSVILLE, N.C. (May 6, 2012) – Gavin Faith once again rode in James Stewart's place at Sam Boyd Stadium in Las Vegas, Nev. for the final round of the 2012 Monster Energy AMA Supercross Series. A sold-out crowd of 39,505 fans were in attendance and SPEED aired the event in its entirety live.
Davi Millsaps and Faith were both in the first heat race. Millsaps won the race from gate drop to checkers, while Faith had the misfortune of going down while in a transfer position relegating him to the Last Chance Qualifier (LCQ). He went on to win the LCQ, which takes only the top-two finishers, earning a place in the main.
With the title already clinched coming into Las Vegas, the battle was on for the runner-up series position. Three riders were in the hunt with the points very close, including Millsaps. When the gate fell for the last time in 2012 Millsaps was just outside of the top-five with Faith, who had a poor gate pick as a result of qualifying through the LCQ at the rear of the field. By lap seven Millsaps had worked his way into a podium position. At about the halfway point Millsaps engaged in a spirited fight for second position lasting several laps, even colliding with his adversary until he secured the spot which he maintained to the checkers, thus securing the series runner-up honors. It was his fifth podium finish. Faith earned 14th.
CBS will air a Supercross Season Review today beginning at 2:00 p.m. (EST). FUEL TV will re-air the Las Vegas broadcast tonight at 8:00 p.m. (EST).
The next race for the JGRMX/Toyota/Yamaha Team will be the Lucas Oil AMA National Championship season opener, the Hangtown Classic, held in Sacramento, Calif. on May 19. FUEL TV will air the first motos live from 4:00 – 6:00 p.m. (EST). There will also be a live broadcast on allisports.com. Allisports.com will have a live audio feed of the second motos. The second motos will be telecast on the NBC Sports Network between 12:00 – 2:00 a.m. (the 19th).