Quality Tools & Controls
Your motorcycle tools, cables, and controls specialist!
Chat is Offline
Account
May 16, 2012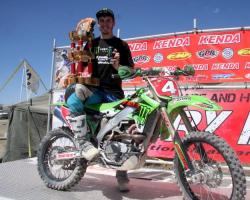 Jacob Argubright Race Report- National Hare and Hound Round 5 Jericho, Utah
Well, im sitting here at home, after a long weekend in Vegas-Utah- and then Vegas, and honestly am writing the best race report of my life. My weekend started off really bad, with me getting stuck in the Matrix section right before the finishline at EnduroCross, and I failed to qualify for the main. But ended with the biggest thrill of my life as I crossed the finishline at FIRST OVERALL for the FIRST TIME EVER in a NATIONAL HARE AND HOUND!
Friday Night/Saturday Morning
We left Endurocross at 11:00 PM and we were all really tired, but very thankfully for the invention of the best energy drink out there, Monster Energy Rehab- which kept my crew awake enough to drive 7 hours to Jericho Utah. We got there at 6:30 AM and while the crew got some rest I unloaded, had oatmeal for breakfast and went out for a wake up ride. I felt pretty good, tired but ready to go. I heard the course was going to be somewhat same from last year so I switched from a Dunlop MX51 front tire to a MX31 for the sandy condition which ended up being a great choice.
I went over to the bomb and the start was the same one as a couple of years ago, but it was still gnarly jumping the sand dunes and bombing it through the sage brush. I ended up going to the middle left by Kurt Caselli, Nick Burson, David Kamo, and Justin Morrow.
The banner went up and thankfully it was only a minute this time, so I didn't get to queezey and was able to focus. I had a great first kick jump and I was the first one out of the hole. I decided to let off on the massive jump that was 50ft of the start and Kurt thought otherwise and actually jumped over me which was insane to watch! I was 4th off the start behind my Purvines teammate Justin Morrow. We got into the course and I got aggressive and passed Justin and got right behind my other Purvines Racing teammate Nick Burson. I wanted to make the passes early and not loose Kurt to early in the race. We got into a silty tree section and I actually slid out and Justin passed me back. The course then transitioned into some wide open roads and the dust was so bad I actually slowed down to first gear at some points. I kept my head down, took a breather and waited till we got into the sandy section where I was able to push and pass both Justin and Nick into 2nd place. I kept pushing, but could see Kurts dust way off in the distance, which was nice because usually hes gone by that point.
I came into the first alternate pit where I pitted myself and was off. It started to get rocky and maybe 3 or 4 miles in I came down a hill to find Kurt sitting on the ground I stopped and made sure he was okay and then I knew I was in the lead and didn't wanna lose it so I went balls out from that point! Justin was in 2nd and made a push too because he was only 30 seconds behind me in my dust. I came into the pits and made sure I had a quick pit, everyone was cheering for me which was awesome encouragement. I had some energy and sprinted for the first 15 miles of the second loop. The trees are always fun but being so tall I have to crouch for long periods of time and it starts making my neck and upper back sore. I was nervous being in the lead so I would pin it into corners almost miss it, slide and pin it out like a goon but it was working so I kept with it!
I only blew one or two corners the whole second loop, so I was happy with that. I came into the 2nd alternate pit where I saw Donnie who was so excited he couldn't contain it. I pitted my self and had 25 miles to go. I set it into a fast cruise mode where I thought I would be safe but I wasn't. I looked back and Justin Morrow was riding awesome and was in my dust! For the last 10 miles I made sure it was an all out blitz. I was out of the trees and heading towards the finish where I greeted by a family of cows in the trail. I slowed down and went in the other direction but they were frantic and went the way I was going and I ended up coming close to taking them all out! After getting through that I went on and made to finish my first Overall National Hare and Hound win!!
Results
Jacob Argubright (Monster Energy Team Green Kawasaki, Purvines Racing)
Justin Morrow (Purvines Racing)
T.J. Hannifin (Kawasaki)
David Pearson (Kawasaki)
Nick Burson (Purvines Racing)
Notes
Great job to my teammates Justin and Nick they are killing it and are getting top consistent finishes. Along with my first win this was Megan's (my girlfriend!) first win in the Womens Novice class and is now in the points lead in her class!
Im sorry to see Kurt get hurt like that. It sounds like it might be a Collarbone and since I did that earlier in the year, I know that he will likely miss the next round if that ends up being the case.
Did you see that the top 5 in this race were ALL ON KAWASAKI'S? That is pretty cool, and a true test for the fact that they are just great all around bikes. They have the speed to go wide open in the desert, but are agile enough to make it through the trees of Utah without being much of a problem. I am really lucky to have such a great bike, and the way that Eddie, Adrian, and the rest of the team have been so consistent with the setup and race day operations are really the reason that I am able to even be in a possition to win a race like this!
I want to dedicate this win to my mom and dad who have done everything in their power to make me a successful racer. I know that since the first time I entered the Mini class on a KX80 they hoped that I would be able to one day win a big race, and after everything that we have been through I feel like this is the biggest race I could have won for them!
I'd like to thank all my sponsors Monster Energy Kawasaki, Purvines Racing, Kawasaki of Simi Valley, Off-Road Support, Moose Racing, Fasst Co. Flexx Handlebars, Jett Boots, Oakley, Braking, Matrix Concepts, Maxima Oil, Mechanix Wear, Traxxas, Motion Pro, Uni Filters, Dunlop, Trick Racing, Rekluse, Dirt Digits, Omega, BRP, TBT Racing, Pro Moto Billet, Fastway Performance, IMS, and Photos by Grumpy.
My next race will be back in Utah at the Cherry Creek National. This is the race I crashed at last year, so I am looking forward to getting back to it and redeeming myself. This win really gives me the confidence I need going into the second half of the season.
Lastly if you were wondering, I'm 21 now… so yes,we celebrated at the Orleans in Vegas after I got in around midnight Saturday evening!
See you in the Desert!
-Jake
Jacob911.com
---
View original article at
Jacob911.com
Racing
,
General News
All Article Tags