Quality Tools & Controls
Your motorcycle tools, cables, and controls specialist!
Account
News
posted Apr 28, 2009
Tags:
Product Press Releases
All Article Tags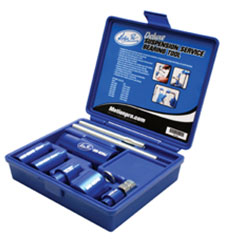 The swingarm and rear suspension linkage bearings on a dirt bike live a hard life and get a terrible beating. They are right in the spot on a motorcycle where the most dirt, mud and water from the rear wheel are thrown, and even though the factories try to seal them as well as possible, these bearings almost always have a pretty short lifespan. Servicing this critical part of the suspension is faster and a lot easier if you have the right tools and Motion Pro has a new tool designed just for this task.
The Deluxe Suspension Bearing Service Tool is designed to work on virtually all suspension bearings or linkage currently in use. This versatile new tool comes with a variety of billet aluminum cups and drivers that allow a mechanic to remove and replace 17, 20, 22, and 29 mm ID bearings or bushings used in modern off road swingarms and suspension linkages. With the Deluxe Suspension Bearing Tool, wrestling with a hydraulic press is no longer necessary, and the job is faster and easier than ever before. This kit allows the average home mechanic to work on their own suspension components, rather than having to spend a lot of their hard earned money to have a shop perform this service. Installation is easier too, because we incorporated a pilot in the bearing drivers to make sure that the bearing or bushing is properly aligned during installation. The kit even includes a 20 mm blind bearing remover to pull the pivot bearings out of Honda type dogbones. Please note that for KTM heim joint bearing removal and replacement we recommend using the Motion Pro KTM Heim Joint Tool (p/n 08-0434).
Doing suspension linkage service work with a hydraulic press is so time consuming that many shops charge high prices for this service, or only offer complete OE suspension assembly replacement. If you are an active rider and home mechanic, this tool kit can help you keep an important part of your bike in top running condition. Considering the cost of having a dealer perform this service, or looking at the cost of replacement assemblies, this kit will pay for itself after rebuilding just two sets of rear suspension linkages.
The Deluxe Suspension Tool (p/n 08-0294) carries a retail price of just $164.99. It is available through your local powersports dealer, or directly from Motion Pro. For more information visit us on the web at www.motionpro.com or call us 8 – 5 pm PST at 650-594-9600
.