Quality Tools & Controls
Your motorcycle tools, cables, and controls specialist!
Account
News
Check out what's been going on with Team Hancock
posted Jun 29, 2012
Tags:
General News
,
Racing
All Article Tags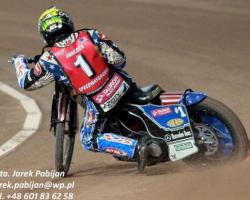 Hi Everyone
The momentum is building once again and finding the consistency that I have been missing. We have continued to work hard in order get all my equipment running strong on a regular basis as well. Racing can sometimes test your patience, skills and knowledge so that always makes it more interesting.
League racing in Sweden has been running smooth most of the season however my team "Piraterna" have suffered 2 away defeats in the last 3 weeks giving some of our opposition a chance to get at us. We will build on this now in order to be ready for the playoff revenge later in the year.
My Polish team Azoty-Taruon Tarnow have continued on an amazing winning streak where are still unbeaten so far in 2012. It really is an incredible record for a team like ours. It shows that you just need to have a team of riders, mechanics and management that can work together and create a good positive attitude throughout. We have now hit the half way stage of the League and GP season so there is still a long way to go and looking good so far.
The World Championship continues to be as interesting as ever. In Copenhagen, Denmark for round 5 two weeks back, I scored well in the heats and took choice of gates in the semi final. I of course took the favorite gate #1 and made a great start before the race was called back after the 3rd lap due to an incident involving the unfortunate exclusion of Chris Holder. In the restart, I took it again only for it to be stopped due to an incident again with the exclusion of Nicki Pedersen this time. The 3rd and final time I made the start and won over Freddie Lindgren who was the only other rider left in the race. Again I took gate #1 in the final and missed it slightly over Jason Crump from gate #2! He got the drop on me and held me up in the first corner allowing Lindgren to get by as well. I tucked in hard behind them on the difficult to pass track working to push them to a mistake that did not happen. I ended up 3rd on the night and held a 2 point advantage in the overall series.
We then moved to Gorzow, Poland for round 6 of the Monster Energy SGP World Championship where I really found the form that I was looking for. The track was a little special in the practice due to 3 days of hefty rain prior making practice somewhat useless. I scored 12 points in the heats and had choice of gates again. I chose #2 in the semi as it was working good most of the night. as the tapes went up, I hit hard and got trapped a little going into turn 1 pushing me into 3rd position. I battled hard and built up some good speed only to be deflated when the engine ignition failed on the 3rd lap causing the engine to lose all power and I was relegated to last place missing the final. A real shame but the plus on the night is that I actually took another 7 points up on my closest rivals so I now have a 9 point lead in the standings at the half way point of the series. Still a long, hard run ahead which I am more than ready to take on. Game ON!
We now look forward to SWC (Speedway World Cup) on July 7th where the USA team takes another shot at making back into the World Championship books again. We have a great chance to get to the Race-Off and then everything else will be a bonus. So stoked about that.
Thank you again for all your continued support and see ya soon!
Lets Go Racing!!
Greg