Quality Tools & Controls
Your motorcycle tools, cables, and controls specialist!
Account
Motion Pro Mini Pro T-Handle, 6mm
Jun 25, 2007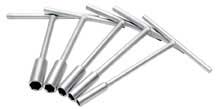 San Carlos, CA., April 13, 2007 - The Motion Pro compact
6mm Mini T-Handle
is the perfect addition to your existing Mini Pro T-Handle set, and an essential tool for anyone who rides or works on KTM motorcycles. It was initially designed for KTM tank shroud fasteners and other 6mm KTM fasteners, but it's also an ideal tool for hose clamp adjusters found on most other motorcycle makes and models.
The
6mm Mini Pro T-Handle
is light and compact for working in tight spaces, and with a 5" shaft length it's easy to transport and can even be carried in your tool pack.
Motion Pro
never skimps on quality, and this tool is no exception. All of the Motion Pro Mini Pro T-Handles are constructed with chrome-vanadium tool steel sockets with a hard nickel pewter finish, and come with a lifetime replacement warranty.
The suggested retail price for the 6mm Mini Pro T-Handle, part # 08-0401, is only $11.20.
Featured Products
All Article Tags