Quality Tools & Controls
Your motorcycle tools, cables, and controls specialist!
Chat is Offline
Account
Forsberg Completes Perfect Season to Clinch GNCC Women's
Jul 9, 2012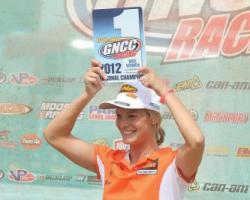 July 9,2012 - Millfield, OH– Factory FMF/KTM rider Maria Forsberg wrapped up a perfect season remaining undefeated through the first nine rounds of the series to clinch the 2012 GNCC Women's Championship.
Forsberg's victory at the John Penton GNCC marked her ninth straight win of the season and allowed her to claim her third straight GNCC Women's class Championship. In typical fashion, Forsberg started strong and led every lap of the Women's race to take the victory.
"It has been a great two weeks," remarked Forsberg, who just returned from X-Games 18 where she won the Women's EnduroX Gold Medal for the second year in a row. "I am so thankful to everyone on the team that has helped me this year. It has truly been a remarkable year and I am so grateful for the success that I have had."
Forsberg wrapped up the championship with four rounds remaining and plans to change things up a bit in the remaining rounds. "I would like to compete in the 250 A class for the remaining rounds and see how I stack up against the men in the 3-hour race. I am looking forward to competing against them and beginning a new challenge for a few races."
Next Event: September 15-16, 2012 – Unadilla Raceway
Overall Results GNCC Women's Class –
Maria Forsberg – KTM
Becca Sheets
Hannah Otto – KTM
Rachel Gutish – KTM
Leeann Bange
Brooke Cosner
Ashley Copeland
Allie Spurgeon – KTM
Kelly Hall – KTM
Samantha Steiner – KTM
Overall Point Standings GNCC Women's Class –
Maria Forsberg – 180
Hannah Otto – 153
Leeann Bange – 142
---
View original article at
www.ktmusa.com
General News
,
Racing
All Article Tags