Quality Tools & Controls
Your motorcycle tools, cables, and controls specialist!
Chat is Offline
Account
Russell Earns 2nd at John Penton GNCC
Jul 9, 2012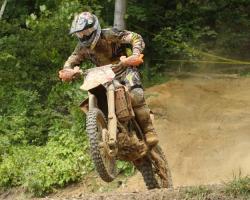 Millfield, OH– Factory FMF/KTM rider Kailub Russell earned 2nd overall in the GNCC XC1 class at round nine of the GNCC Series.
Russell got off to a decent start and was sitting in 2nd position at the end of the first lap. Fellow KTM rider Rory Mead got around him on the next lap to take over the position. The two KTM riders battled for the remainder of the race.
On the final lap, Russell was able to pass Mead at the end of the moto section to regain the runner-up spot. The two riders pushed each other to the end of the race and finished 2nd and 3rd respectively.
"I had a good battle with Rory today," stated Russell. "It was hot today and the course was challenging but we were able to remain consistent with our times and land on the podium. I have a few things to work on before the next event but I am determined to get back on the top step of the podium again."
In the XC2 class, KTM riders Jason Thomas and Steward Baylor finished 2nd and 3rd respectively. The 2nd place finish helped Thomas move up in the XC2 point standings but Baylor still holds a 13 point advantage.
Next Event: September 15-16, 2012 – Unadilla Raceway
Overall Results XC1 Class –
Paul Whibley
Kailub Russell – KTM
Rory Mead – KTM
Chris Bach
Thad Duvall
Josh Strang – KTM
Jordan Ashburn
Nathan Kanney
Garrett Edmisten
Mark Fortner
Overall Results XC2 Class –
Andrew Delong
Jason Thomas – KTM
Steward Baylor – KTM
Jedediah Haines
Nick Davis
AJ Stewart
Brad Bakken
Ryan Lojak
Ricky Mair – KTM
Michael McGinnis – KTM
Overall Point Standings XC1 Class –
Paul Whibley – 225
Kailub Russell – 216
Rory Mead – 167
Overall Point Standings XC2 Class –
Steward Baylor – 200
Jason Thomas – 187
Andrew Delong – 172
---
View original article at
www.ktmusa.com
General News
,
Racing
All Article Tags