Quality Tools & Controls
Your motorcycle tools, cables, and controls specialist!
Chat is Offline
Account
Destry's LL's MX race report (Tennessee)
Aug 7, 2012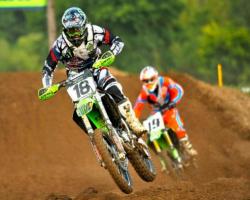 Loretta Lynn's MX
Hurricane Mills, TN
July 30 –Aug. 4, 2012
Per-race:
I had my son, Cooper, fly out with me on Sunday since I knew I was going to need some support at this race. It's always nice to have a family member with me and since Charlotte has been wide open with her candle company (giving her a plug in case you guys are needing candles:) and since Kelsey has been busy with her job Coop was all for it. Monday was practice, but I never really felt that good since it was packed both times I went out. During the week we would have three motos in each class and you would tally up your overall score with the guys in your class to determine your score. I knew going in one of the big factors for me was going to be the humidity, and boy was I right!
Tuesday:
My first moto of the week was the 35+ and this class was for sure stacked! Each moto was 20-minutes and luckily it was early in the morning so the heat wasn't too bad yet. I didn't draw a good starting spot (29), but when the gate dropped I had a pretty good jump and was around 10th after the first corner. I was a little tight, but was finding some good lines and within a few laps got into the top 5. Around the halfway mark I started to feel pretty good and got myself into the top 3 and had Povolny not far in front of me while Reynard was leading. I tried to get close enough to put a pass on, but it just didn't happen and I finished 3rd which wasn't to bad for the first moto and knew it would keep me in contention!
Wednesday:
This is the day I had two motos; the first in the 40+ and then my second 35+ a few hours later. In the first 40+ moto I drew number 13 for a gate pick which was a lot better then my first 35+ moto. I think I was around 5th after the first corner. A couple laps in I had made it up to 2nd and by halfway was getting closer to Treadwell who was leading. Then with two laps to go I was within 2-seconds of the lead and had 6-seconds on 3rd (Grewe) while Dubach was 4th. Unfortunately my bike cut out when I landed a jump and almost sent me over the bars. I didn't have a clue what happened! Then every time I landed the bike would keep cutting out. Next thing I know the guys behind me are closing in and I couldn't do anything about it! Both Grewe and Dubach went by since I wasn't able to jump the rhythm sections or anything else where the bike would take a hit. I ended up finishing 4th and was pretty bummed since that was one I felt I had a good shot at winning! I was also hurting after this moto and couldn't believe how bad the humidity took it out of me. After the race I found out the MX team runs a different gas then I usually run and with the heat as bad as it was the gas boiled towards the end of the moto.
Now it was time for my second 35+ moto and the guys mixed some new fuel up that was supposed to help. Since I had a 3rd in my first moto I had a great gate pick. My timing was off a little and I didn't get the jump I was hoping for, but still was in 5th or so after the first corner. I was honestly a little nervous on how my body was going to react since it was hotter then the previous moto earlier in the day. I really focused on smoother lines and it felt more like I was riding an ISDE test and just trying to carry speed. It was actually working out really well and right about the halfway point I was in 4th and within a second of Stiles and Treadwell was right in front of him. Then the bike started doing the exact same thing as it was doing in my 40+ class! You could imagine I was frustrated and this time I didn't care and stayed on it, but had a few close calls. I had to push harder in the corners and really be careful on the jumps. I still finished within a second of Stiles, but wasn't too happy with it! I actually felt way better in this moto then I did earlier in the day!
Thursday:
Now I was back for my second 40+ moto. This moto was at 6:30 in the evening and it was hot! Of course my big concern was the gas issue, but the boys had a totally different type of gas and wrapped the bottom of my tank to help out too! I had the 4th gate pick and really wanted a good start. I had a great jump and pulled the holeshot, but took a bad line right off the bat and Dubach and Treadwell went by. A few laps in I got back by Treadwell and then halfway in got a couple seconds behind Dubach who had a little lead on us. Towards the end of these Motos the lappers are probably the toughest thing to deal with, more so in this class then the 35+. I got stuck behind a small pack and lost about 4-seconds that lap to Dubach and just couldn't make it up by the finish and ended up 2nd. I was happy with the way I rode and the bike ran awesome the whole time!
Friday:
The last moto for the 35+ class and going into the final moto I was tied with four other guys for 2nd overall. The gate dropped and I pulled another holeshot, which was awesome! I was way tight for some reason and both Povolny and Stiles were more aggressive then me and put me back into 3rd. At the halfway point I still had Reynard behind me and I actually closed within a bike length of Stiles. Then I got cross-rutted in a tight right-handed corner before the 10-commandments, and Reynard went by. I messed that whole section up bad! I stayed within a couple seconds of Reynard and on the last lap I had a 6-second gap on Treadwell and figured this is where I was going to finish. The last corner I was on the inside rutt and for some reason I had a lapper square up the corner and come down on me and cleaned both of us out! So of course I lost another spot and an overall position. I was pretty upset at the guy after we went across the finish and I know he apologized to me, but at the time didn't want to hear it! One of those things when you're in that moment it's not easy to take, but I know it was just an accident and it wasn't for the championship anyways!
Saturday:
The final 40+ is the one I really wanted to win and at least end on a good note! My chances at the title were going to be tough since this class wasn't as deep and even if I did win I was going to need some help! Either way I still wanted to win the moto :) Once again I pulled my third holeshot of the week and have to thank Coop for that! The final three Motos he packed my starting gate, which was really cool! I got a $100 gift certificate for each holeshot and figured I better give it to him for doing that. This time I learned my lesson and had a good line and didn't lose the lead right away. I honestly felt this was my best race during the week and was more like myself and jumping things I hadn't been doing all week! I was still leading after 3-laps, and then made a really stupid mistake in a tight left hand corner by the starting gate. My front end pushed and I went down. It took me about 12-seconds to get going and put me back into 4th. The next couple laps I had my best lap times and was closing back in then Grewe went down right in front of me and it put me in 3rd. Dubach and Treadwell had a great battle going on in front of me and whoever won was going to win the title. Dubach just beat Treadwell by less then a second and then I brought it home for a disappointing 3rd.
Overall Summary:
The week definitely didn't go as planned, but as the week went on I felt better. Besides two Motos where we had some weird fuel issues the bike was awesome! I came in here feeling really good and confident, but the humidity isn't something I trained for and it beat me up more then I thought it would! My speed was good in some of the races and some of the other ones I was on the tight side. I still had a great time, and hopefully I get a chance to do this again next year since I learned a lot and know what I need to focus on and prepare for! I want a LL's title to add to my list of championships! I don't have any mx titles and that would be cool to do before I'm done racing!
35+ Top 10 results:
1st Robbie Reynard
2nd James Povolny
3rd Clark Stiles
4th Mike Treadwell
5th Destry Abbott
6th James Evans
7th Scott Sheak
8th Dennis Dooley
9th Dennis Bourque
10th Fernando Macia
40+ Top 10 results:
1st Doug Dubach
2nd Mike Teadwell
3rd Destry Abbott
4th John Grewe
5th Brian Caroll
6th Earl May
7th Dennis Bourque
8th Jay Wagner
9th Jon Agin
10th Justin Jackson
Other Notes:
A huge thanks goes out to all the Monster Energy Kawasaki employees! I was able to pit out of the semi and they did everything they could to help me try and win! Team Green definitely shows up in full force and was for sure the elite team there!
Cooper, Angry Andy, and Ryan Collins also stepped up and helped with bike prep and whatever else I needed done. The last three Motos, Coop started prepping my starting gate and those were the ones I pulled holeshots in which was really cool!
My off-road boss (Jason Smigel), Reid Nordin, and Ryan Holliday were cool enough to let me come back here and race this. It wasn't on my list of races for this year, but something I really wanted to do! Maybe they'll give me another chance next year :)
It's been a long time since I've been here and I was blown away by how huge it was! Anyone that's in this industry was pretty much here at one point! It was also really cool to see a lot of the MX guys that I don't get to see that often. Got to watch RC (win the 25+) and talk to him, which is always cool! Great guy and someone I admire!
Thor was awesome and brought out all of their new 2013 gear, and had us wear it in our races! Stuff is sweet!
Jonny Weisman built this race bike just before we gave it to Kawasaki. It was nice having him build a race bike for me again.
I added some photos from Mark Kariya, Simon Cudby, and Jared Bolton.
I really don't know what my next race will be, but this week I'll be back in Tennessee for country singer, Craig Morgan's, benefit ride and concert. Craig and his family are big into motorcycle racing (and are great people) and he does this every year to help out with his charity event. I've done it before and it was a blast. This year he has Kevin Windham, Trey Canard, Kenny Bartram, Fred Andrews, Randy Hawkins, and myself there to do some riding with everyone. For more info check out www.craigmorgan.com
---
View original article at
www.destryabbott.com
General News
,
Racing
All Article Tags