Quality Tools & Controls
Your motorcycle tools, cables, and controls specialist!
Account
News
JGRMX: Unadilla Results
posted Aug 20, 2012
Tags:
General News
,
Racing
All Article Tags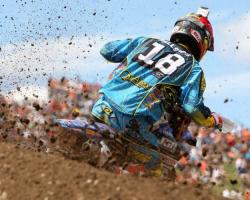 HUNTERSVILLE, N.C. (Aug. 19, 2012) – Unadilla Sports Valley in New Berlin, N.Y. was the site of round ten of the 2012 Lucas Oil AMA Pro Motocross Championship. The historic track was on the circuit during the inaugural year of the AMA Motocross Championship in 1972 and has a roster of obstacles with some of the most colorful names on the tour. The Gravity Cavity, Sky Shot, and Wall, are synonymous with the historic track.
Heavy rains Friday caused the track to be especially treacherous. Wet loam lay over hard pack and rock, with deep ruts forming that crisscrossed the racing surface. Davi Millsaps began the first moto inside the top-10 and advanced to fifth by just the third lap. With five laps to go he had worked his way into third and a podium finish for the moto. Millsaps holeshot the second moto and was running in second place when another rider clipped his front wheel almost taking him down. He stayed up but the loss of momentum relegated him back to fifth place, which is where he finished the race. His three – five moto scores gave him fourth overall for the day.
FUEL TV and allisports.com carried the first motos live starting at 12:30 p.m. (EST). The second motos were live on NBC at 3:00 p.m. (EST).
The penultimate round of the series will be Sept. 1 at Steel City Raceway in Delmont, Pa. The first motos will air live on FUEL TV and allisports.com starting at 1:00 p.m. (EST). The second motos will also air live, on the NBC Sports Network at 3:00 p.m. (EST).