Quality Tools & Controls
Your motorcycle tools, cables, and controls specialist!
Chat is Offline
Account
FMF/RPM/KTM Racing Team Maxxis: WORCS Championship Report
Sep 11, 2012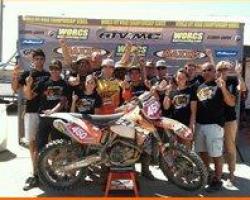 | | |
| --- | --- |
| FMF/RPM/KTM Racing Team Maxxis | September 2012 |
Stay Connected

Follow us on Facebook, Twitter and Google+ to stay up to date with the latest in the world of FMF/KTM/RPM Racing Team Maxxis!

RPM Racing Team

461 E. Pole Rd.

Lynden, Washington

98264

Dear Sponsors, Friends and Fans,

Our WORCS and Canada National Enduro race seasons have come to a close. FMF/RPM/KTM Racing Team Maxxis has already officially claimed two Championship titles, and I cannot express enough how very proud of these guys I am. The hard work and dedication of our team has taken us through a very successful racing year, but it's not quite over.

The team still has some racing to do including Endurocross, ISDE, GNCC and the Baja 1000. Coming up this weekend in Ontario, California, riders Chantelle Byerk and Bobby Prochnau will take on round four of Endurocross. If your in town, join us by purchasing tickets

here

, and by following us on our social media networks.

Thank you to all the sponsors, fans, friends, family, promoters, media, crew and riders.

Sincerely,

Michael Hurlbert

RPM Racing Team

Ramirez Crowned WORCS Pro 2 Champ

Coming into the final round in Taft, California, Ivan Ramirez focused on the ultimate prize; the Pro 2 Championship. After Cory Graffunder's absence at the previous round, Ramirez just needed to have a solid top 5 finish to secure the crown. On Sunday, Ivan Ramirez began the race coming around in 3rd on lap one. Moving into 2nd on lap two, Ramirez began to get into his rhythm; setting the fastest lap at 08:51:054. Needless to say, Ramirez went on to ride a flawless Pro 2 event, finishing second to Justin Jones and securing the 2012 WORCS Pro 2 Championship.

Ramirez's team mate, Travis Coy started his Pro 2 race off solid and rode strong for the entire 90 minute race in the 100 degree heat to secure 4th place. Coy finished a very impressive fifth overall in Pro 2 for the season. Now in just days, Coy will be Germany bound in hopes to take a Gold medal along with his USA Junior Trophy Team at the ISDE. Good luck Travis!

Martinez Wins Taft/ Walks Away with 2nd in Championship Battle

Saturday's Women Pro race kicked off as Kacy Martinez jumped out front with a holeshot, and held her lead over the competition from start to finish. Running a most impressive race, Martinez did everything a perfect rider can do to win the race.

We came close to another championship with Kacy Martinez at WORCS in the Pro Women division, as this would have been her fourth consecutive WORCS Championship. Martinez won four of the 10 events, and podium-ed the other six . Her rival, Tatum Sik clinched five wins and took the Championship with 213 points, just 7 points over Martinez's 206. Congratulations to Tatum, it was a pleasure to watch you girls race this season!

Strang Earns Another Podium Finish




Josh Strang got off to a good start in the Pro class on Sunday as he was fourth going into the first turn. Taylor Robert took the lead early on with Timmy Weigand in second, Ryan Abbatoye in third, and Strang in still in fourth as Robby Bell kept right on him in 5th. The crew pitted him first hoping to get an advantage and pass the others on the next lap pit stops, but the competitions crews were just as fast, and no advantage was gained. Strang figured out he was really going to have to work for this one. He got by Abbatoye and then proceeded to pass Weigand for second as he got hung up in the Endurocross section. The crew was now faced with a difficult decision as the race was going one more lap than anticipated; which meant more fuel! On the last lap Strang pulled in for a quick 10-second splash and made it out just in front of Weigand, Bell and Abbatoye to finish the day in 2nd. Strang's 4 -2 finish gave him 3rd overall for the weekend.

Early in the season Josh Strang had to sit out more races than anticipated to heal up from his leg injury last year. As the season went on, Strang was able to make a full recovery and get back in the game 100%. Going 4-2 in Taft this weekend, he has consistently proved to get stronger and faster every race. Strang finished 7th overall in the WORCS points chase, and we look forward to watching him take on the next few GNCC"s.

Prochnau the Canadian Enduro Champ




With added support from KTM Canada and RTR Performance, Bobby Prochnau has been all over Canada to win the Canadian National Enduro Championship. Prochnau somehow found the time in his busy schedule to make it back to the States and race the Big Sky XC in Montana where he finished 4th overall. "It was super dusty but super fun," stated Prochnau. "The course had every kind of challenge you could imagine. I look forward to returning to the Big Sky XC next year. I want to win this one."

In regards to Endurocross, Prochnau mentioned, "My focus will be on Endurocross for the rest of the season. I really want to get a win under my belt."
---
View original article at
http://campaign.r20.constantcontact.com/render?llr=izwi7yiab&v=001-VufbrhO4aYIOg_cpcp2V81C1FqpjHfswTo7xae57O_Ut2jFrc7vJPjNE8EycPluTBg7oNOYsilQdLrYrhLrtGqKIG-8Rz
Racing
,
General News
All Article Tags