Quality Tools & Controls
Your motorcycle tools, cables, and controls specialist!
Chat is Offline
Account
Featured Product - Ergo Spoke Wrench
Sep 27, 2012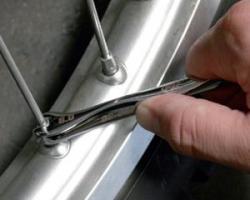 Spoked wheels require regular care to make sure all the spokes are correctly tensioned in order to have a safe and true wheel. Most wheels have at least 32 spokes each, and some wheels can have 60 or more spokes, so you better have a good spoke wrench to tackle the job! The new Motion Pro Ergo spoke wrenches feature an innovative and unique contoured shape to fit perfectly in your hands and reduce fatigue. They have an open wrench on one end for quick checking of spoke tension, and a ¾ closed end on the other side for a high torque situation. The wrench heads are angled to allow easy access no matter what the spoke pattern is. The Ergo Spoke Wrenches are finished in polished chrome with laser etched markings for easy identification. They are available individually, or in a set of six for the professional mechanic. Available sizes are 5, 6, 6.3, 6.5, 6.8, and 7 mm.
The Ergo Spoke Wrenches are in stock and available now from your favorite local dealer
Newsletter
All Article Tags