Quality Tools & Controls
Your motorcycle tools, cables, and controls specialist!
Chat is Offline
Account
JAKE GAGNE AND ROADRACE FACTORY/RED BULL WIN IN MIAMI
Sep 27, 2012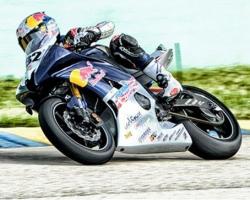 Homestead FL (September 27, 2012) -Jake Gagne and RoadRace Factory/Red Bull won the Sunday AMA Pro Daytona SportBike race at Homestead-Miami Speedway last weekend, a first class victory for both Jake and the team.
Gagne won the wet race, showing fantastic speed in the tough conditions to win by 7.126 seconds. Gagne, who set the fast lap in the race on Saturday and finished fifth, got away quickly and made it a two-rider battle at the front, pulling away at the end of the 23-lap race.
"Right away, I knew how fast we could go from the earlier practice (in the wet). I got behind Dane (Westby) and we took off," said Gagne. "I saw we had a couple of seconds. I figured I'd try to get past Dane and see what we could do - up the pace and see if I could still stay on the bike. We ended up pulling a little gap. I did a couple of fast laps to get the gap. We've had ups and downs this year but this really makes up for it."
Gagne also earned the bonus point for leading the most laps.
Now the team has won in both DSB and SuperSport, with Hayden Gillim winning in Utah. All four RoadRace Factory/Red Bull riders have earned the podium this season, the first year for the team.
J.D. Beach finished 9th on Sunday. Beach struggled some during the weekend. "Frustrated would be a nicer word than I'd use. It wasn't a good weekend but it should have been," said Beach. "We'll go over our notes and get ready for NOLA."
Tomas Puerta had a great weekend, however, earning two podium positions in AMA Pro SuperSport at the Triumph Big Kahuna Miami. Tomy ran strong in both races, earning third on Sunday, just over 2 seconds behind the winner. On Sunday, he backed it up with second place as he improved one position in a race red flagged and called complete after 10 of 18 laps.
"I had a good race and had a great start," said Puerta. "It feels great to get back on the podium again. I had a few issues with the front that kept me from going for the win but we have built some momentum and are looking forward to going to NOLA to see what happens."
Hayden Gillim earned fifth and sixth in Miami -- two solid results -- but the Kentuckian was expecting more. "It was an alright weekend," he said. "We never quite found the lap times we were looking for but we got some finishes. I qualified eighth, which wasn't what I was looking for and were able to move up some in the races. Everyone was at the top of their game this weekend and I wasn't able to step up. I'll train hard and come out swinging in New Orleans. The test there went well for us so I'll try to build on that."
RoadRace Factory/ Red Bull's Danny Walker said, "Our goal was to work our way up and be in the hunt for the podium in DSB this year. J.D. got it at Road America and Jake was able to win. We weren't expecting a win, but wow! We had a team meeting on Thursday and I told the guys we came here with an even slate as a new team. We had as much track time here as anyone else with the test and Jake and Tomas were able to have good weekends. J.D. and Hayden both wanted a little more but we have a similar situation in New Orleans coming up so we're looking forward to that one."
The Triumph Big Kahuna New Orleans presented by Dunlop Tire and LeoVince is Oct 5-7.
General News
,
Racing
All Article Tags