Quality Tools & Controls
Your motorcycle tools, cables, and controls specialist!
Chat is Offline
Account
Destry's ISDE Race Story (Germany)
Oct 2, 2012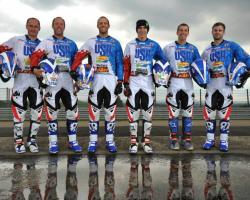 ISDE
Saxony, Germany
August 24-29, 2012
I didn't think I would be doing any more ISDE's, but with my teammate Bobby Garrison's recent injury I got the call and was asked to fill in for him. I do have to say I've been feeling a lot better then I did going into the Finland ISDE last year, and felt my speed was going to be good. I was actually really excited about it, but super bummed for Bobby too! The team consisted of Kurt Caselli, Mike Brown, Taylor Robert, Charlie Mullins, Russell Bobbitt, and myself. We really had a great team, but we also knew how tough the other teams would be so we would all have to ride our best to have a chance!
Per-Race:
FYI: 'm writing this on my way back to the states and it's hard to remember exactly how everything went down each day . It's a long race!
The first day in Germany is really about getting used to the time difference and figuring out what we're going to do as a team for the first week. The following days theTrophy Team riders and usually all the Junior riders would walk tests, some of them twice, up until the race started(6-days of walking). This is really a must to see what we'll have to be pinning it through right off the bat and it makes a huge difference if your able to remember the critical sections. I believe we walked about 13 or 14 tests, which took about 2 hours per test. We easily walked over 60-miles the week before the race!.
Day 1:
Day 1 and 2 were going to be on the same course (around 180-miles each day) and we would be doing two loops each day with 3 tests every loop. I really wanted to start strong on the first day, and I think it backfired on me! I was definitely trying too hard and out of the 6 tests we did I crashed 3-times, which really cost me a lot time! Out of the three test, which we did twice each, two of them were grass tracks, but one was an enduro test that was really sketchy! A lot of stumps and tree roots with mud holes and slick conditions, which I don't consider any of my strong points :) At the end of the day I wasn't too happy with my performance, but luckily the other 5-guys put in pretty good rides. Since they only take the top 5 scores towards points for the Trophy Team, they were able to throw mine out.
Day 2:
Since this was gong to be all the same stuff we raced on the first day and I felt I had learned my lesson on trying to hard on day 1, my goal was to ride a lot smoother and just hit my lines. For the most part it was pretty uneventful (which is usually a good thing). I kept it up on two wheels on all the tests, but made a few bad line choices and almost got stuck in the enduro test in one of the huge mud ruts. When the day ended I was happier with the way I felt, even though I didn't really know how my times compared to the rest of the racers. I ended up moving up in the overall and had my score count towards the team which was nice!
Day 3:
Now we had a new course again which we would be running for day 3 and 4 (with all new tests besides one which we raced on all 5 days). It was nice to be starting towards the front, because our previous day's score would determine where we would start. I was looking forward to some new terrain, but heard that day 3 and 4 would be the toughest days and we had around 200-miles each day with 8-tests. I don't remember how all the tests went, but I know I went down in one and rode pretty smooth in the rest. The enduro test was another insane one and just filled with tree roots and hills! A lot tougher then the first two days enduro tests! The only cool part was when you're dog paddling up the hills the Euros would be going wild! The thing I remember the most about this day was the tough transfer sections and having 1,000's of spectators in the tough sections cheering everyone on! Once again I was pretty happy with my day, but knew I could've been a little more aggressive and put in better times! It's a fine line on trying to go faster and not making mistakes or crashing and then ending up losing time! The team ended up using my score again.
Day 4:
We all knew this was going to be the toughest day of 6-days! It rained a lot the night before and with the tough transfer sections and tests which were going to be super slick, it was a day I knew I would probably struggle! My goal was to just keep it upright, but that's a lot easier to say then do when it's as slick and rough as it was! The second test I put in a pretty good time and even the first time around the enduro test wasn't to bad. The first time around on the transfer section was really tough. After the second test I hit the ground super hard!!! It was in the trees and I was probably in 4th gear on the small, single track trail and then before I knew it I was on the ground! There were a lot of tree roots in this section and it took my front end out so quick that I didn't even have time to put my hands out! I landed straight on the front of my helmet and knocked myself silly! I first thought I had broke my jaw, but it seemed fine. However both of my eye sockets hurt really bad (along with my head). It took me a minute to get up and going again. Later that night, and for the rest of the week, I had a little shiner below my left eye and above my right! After that there were a few hills that were a long ways and it was PACKED with spectators (still in the transfer section)! Day 3 was hard, but day 4 was just about impossible without having people help us! I had a lot of great riders around me and it was amazing to see us all feel like beginners going up these hills! Our legs weren't on the pegs to often and when they were we were trying to stand. One of the hills it seemed like all of our bikes were overheating and it's not fun breathing in that stuff while you're tired and trying to go up these hills! You don't have a lot of time to stop and let the bike cool off, otherwise you would lose time at the next check. On the second lap around I didn't have the best tests and figured they would throw out my day, but just after one of the tests I saw Charlie Mullins and he had a big crash in the cross test. He lost around 45-minutes seeing the Doctors, but toughed it out and still finished the day. So they ended up counting my score again, even though I wasn't too happy with it! I actually stayed about the same in the overall even with a tough day.
Day 5:
This is the day we were all looking forward too! A new terrain and all the tests we had walked for this day looked awesome! The transfer sections were really easy and mostly roads, which was pretty nice after day 4! All six of us put in a great day and even with Charlie dealing with his shoulder injury, he was back on it! Going into day 5 I think we were running 7th as a team, but we all rode great today and moved into 6th going into the final day! Day 5 scores actually had us 2nd fastest for the day behind the insanely fast French team! We seemed like we were all finally putting it together :)
Day 6:
This was the first time I've raced a finally moto on 60% pavement and the rest dirt. The start was a tight right hander and then it went right onto the pavement (which none of those things are a good mix). I was in the fast E2 heat (top 30 in this stacked moto). I had a horrible jump and tried to go to the outside since there was a little pile up in the first corner. Then halfway around, I lost my rear end in a dirt section and went down. As I was picking it up another rider hit it, and there went my bike flying again. I picked it up and got going, but figured this wasn't going to be good! Luckily for me they red flagged the race since someone jumped the start! The gates were broke and they just had to use a flag for us to take off. The second time was a lot better and I believe I was around 14th. It was extremely hard to pass, but I was able to pick off a few riders as the moto went on. I've never drifted so much on pavement before and actually started to have fun with it! I believe I ended up 11th and was a lot happier about finishing 6-days on a pretty good note! Going into the day I don't think we thought about moving up anymore, but luckily we had some great times and it actually moved us up into 4th overall as a team! We beat last year's winners (Finland) by a little over a second for the entire 6-day and less then a minute in front of Spain. It's pretty hard to believe after 6-Days of racing it comes down to that close on time! We once again had the second fastest team score for the day! We just needed more days I guess :)
Overall Summary:
This was my last 6-Days and I really felt we had a great team and wanted to go out on top, but that's just the way racing goes! There was no way anyone was going to beat France this year, because they were insanely fast! The top 4-finishers in the overall were from France. It seemed like at one point or another the six of us had some problems, but I still thought we fought hard and was happy with the way we finished and moved up in the standings! Mullins, Robert, and Duvall from the Jr. Team put in great rides and I was happy for them. I felt bad for Charlie after his crash though! Caselli had a big crash on day 1 or 2 and had to deal with a shoulder injury the rest of the time too, but he hung in there. Brown overalled a test and smoked all the guys in the E1 final moto, which was awesome to see! I really like Brownie and it was nice not being the old guy on the team! Then Bobbitt put in another great ride after having a few small issues on day 2 and 3. I was able to finish with my 7th Gold Medal, but the team score was the most important to me! I really believe USA can put a team together next year in Italy that can have a shot at the top of the podium! From what I hear it's going to be sandy, and I know a lot of our guys and other Americans that would be a great fit for the team! I really loved spending time with all the guys and they're definitely a great bunch to be around! This event is something I'll always remember and cherish in my racing career!
Trophy Team Results (top 10):
1st France
2nd Australia (happy for these guys, good guys)
3rd Italy
4th USA (would've liked to see these guys win though:)
5th Finland
6th Spain
7th Sweden
8th Great Britain
9th Germany
10th Netherlands
USA Gold Medals (Trophy Riders):
Taylor Robert
Kurt Caselli
Mike Brown
Russell Bobbitt
Destry Abbott
Thad Duvall
Jesse Groemm
Andrew Delong
Other Notes:
The atmosphere in Germany was just awesome! They're all about motor-sports and I honestly don't think you would go over a mile during the day without seeing spectators or kids on the side of the trail cheering everyone on! I know over the period of 6-days there were easily 200,000 fans and spectators that saw the event! It was also one of the prettiest places I've ever been to!
My dad came over with me and it was nice to have him there supporting me and trying to make most of the checks to help out :) It was hard for the chase drivers to find everything!
I roomed with Taylor Robert (my Kawasaki teammate and Arizona riding partner) which was cool! I was really happy to see him finish top American and even as slick as it got some days, he really rode awesome!
It's so hard to thank everyone that made this happen! From all the people that helped me get to this race (Kawasaki built me a great race bike), all the sponsors and everyone who helped with my fundraiser, to all the Doctors (McGee and Sorem) and even the KTM mechanics for helping us with anything we needed (even though we were on green bikes:) We also have all the AMA staff and volunteers that help out at the checks and container! Those guys are all a huge part and definitely don't get enough recognition!
This was the first year that we had Antti Kallonen from (KTM) as our team manager! He really did a great job organizing everything and made it as easy for us as possible! One of my favorite things about 6-Days is that we all come together and help each other out with whatever it may be, no matter what team you're on! I know when we would finish each test we would tell the other guys what lines to take or how the traction and stuff would be! It was a great atmosphere with all of us and that's a huge part to a successful team!
A lot of great photos (200) on my Facebook fan page and I'll also be giving away one of the coolest things I've given away on my site next week. It will be one of my ISDE jerseys signed by all six Trophy riders, so make sure you check it out! http://www.facebook.com/pages/Destry-Abbott/114746998547830?fref=ts
ISDE video links (from day one to day six)
http://www.youtube.com/watch?v=zV_A4obtwFs&feature=relmfu
http://www.youtube.com/watch?v=L2kn3KOK66Y&feature=related
http://www.youtube.com/watch?v=lFVIiQiY9qQ&feature=relmfu
http://www.youtube.com/watch?v=MEVNMMuzfq0&feature=related
http://www.youtube.com/watch?v=xCz2BvFqLvc&feature=related
http://www.youtube.com/watch?v=1TwIGrJhLck&feature=related
http://www.youtube.com/watch?v=n7KSCtZ-HiM&feature=relmfu
http://www.youtube.com/watch?v=_FgO9bfBPbg&feature=relmfu
http://www.youtube.com/watch?v=wffjsD0_2fY&feature=relmfu
http://www.youtube.com/watch?v=9T8ievL7Mzw&feature=related
http://www.youtube.com/watch?v=IDwMyCviIzk&feature=related
http://www.youtube.com/watch?v=H0oz9hxodmo
Thanks to Mark Kariya, Steve Berkner (eyeonsixdays.com) Shan Moore, Christy (KTM), digitaloffroad, Seattime, and everyone else for all the great photos!
---
View original article at
www.destryabbott.com
General News
,
Racing
All Article Tags