Quality Tools & Controls
Your motorcycle tools, cables, and controls specialist!
Account
News
TEAM YOSHIMURA SUZUKI CONCLUDES 2012 SUPERBIKE SEASON WITH SOLID PODIUM FINISH
posted Oct 8, 2012
Tags:
General News
,
Racing
All Article Tags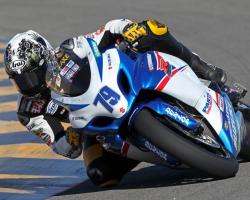 Yoshimura Suzuki's Blake Young celebrates 2nd-place result in New Orleans
NEW ORLEANS, LA (October 7, 2012) – Team Yoshimura Suzuki's Blake Young wound up the 2012 AMA Pro Superbike season with a flourish, racing his Yoshimura Suzuki GSX-R1000 to a celebratory podium finish at the final round of the series at NOLA Motorsports Park in New Orleans, LA.
This past weekend started out with Yoshimura Suzuki's Young getting an excellent start on his Yoshimura Suzuki GSX-R1000 in Saturday's 18-lap race. Young got off the line in second place and turned in a smart, savvy ride to bring home the runner-up spot on the podium. On Sunday, Young was running in second place and en route to another podium finish when he suffered some bad luck when another rider collided with him and he had to retire for the day.
"On Saturday, I got a pretty good start," said Young. "The only thing I would change is that I would have liked to turn faster laps at the start of the race. I put a lot of pressure on myself but it was a good race, and I guess I'm pretty happy with second. The Yoshimura Suzuki GSX-R1000 was working good for me and, as always, my team worked hard for me. It's been a tough season, but hats off to my Yoshimura Suzuki crew for always giving me 110 percent."
Team Yoshimura Suzuki Racing's Young finished the 2012 AMA Pro Superbike Championship season in second overall, with three wins and 13 podium finishes. Yoshimura Suzuki teammate Chris Clark was unable to contend the final race of the season due to illness.
NOLA Superbike Results, Race 1:
1. Josh Hayes
2. Blake Young
3. Roger Hayden
4. Chris Fillmore
5. Robertino Pietri
6. Larry Pegram
7. Taylor Knapp
8. Steve Rapp
9. David Anthony
10. Aaron Yates

NOLA Superbike Results, Race 2:
1. Josh Hayes
2. Ben Bostrom
3. Danny Eslick
4. Aaron Yates
5. Chris Fillmore
6. Chris Ulrich
7. Robertino Pietri
8. David Anthony
9. Steve Rapp
10. Jordan Burgess
2012 Superbike Class Standings:
1. Josh Hayes – 580
2. Blake Young – 426
3. Roger Hayden – 314
4. Josh Herrin – 307
5. Geoff May – 277
6. Ben Bostrom – 271
7. Larry Pegram – 260
8. Danny Eslick – 242
9. Steve Rapp – 216
10. Chris Ulrich – 186
---
View original article at
http://www.yoshimura-rd.com/PR/2012_YOS_SUZ_NOLA_SBK.html