Quality Tools & Controls
Your motorcycle tools, cables, and controls specialist!
Account
News
One Day Until the Flat Track Finals!
posted Oct 12, 2012
Tags:
General News
,
Racing
All Article Tags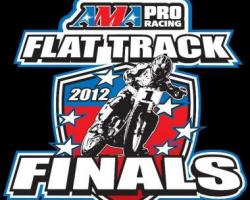 AMA National Championships Race Into Pomona Fairplex October 13
The final round of the AMA Grand National Championship is coming to the Fairplex inPomona on Saturday October 13th and the AMA National Championship will be on-the-line at the Law Tigers AMA Flat Track Finals. Here the world's greatest motorcycle riders will face off shoulder to shoulder and bar to bar at speeds of up to 130 mph on Pomona's famed half-mile oval. The bikes are as hot as the drivers as some of the greatest brands will be represented including Harley Davidson, Ducati, Honda, Kawasaki and more!
Female Rider Shayna Texter Wins Her Third in Tucson, Looks Forward to Pomona
Shayna Texter, the first woman to win a AMA Pro Singles event, will be looking to win for the fourth time this season on her Honda at Pomona. Texter scored her latest victory in Tucson with a last lap pass.
Buy an advance ticket online or at 888 72-tickets and receive a FREE Fan Pit Pass. Come meet Shayna Texter during the Fan Pit Session at 5:30 pm on Saturday.
Speedway Racing Trophy Dash Just Annouced for Pomona
A special speedway bike trophy dash has been announced for the Law Tigers AMA Flat Track Finals this Saturday night. Speedway bikes, not normally featured on the larger half-mile tracks, feature 500 cc engines and no brakes. Come watch all the sideways action as these fearless riders throw their bikes around Pomona's big half-mile this Saturday night!

JC Agajanian Of Ascot Fame Named Grand Marshall of the AMA Flat Track Finals
One of America's best known racing personalities, JC Agajanian Jr., has been named Grand Marshall for the upcoming October 13th Law Tigers AMA Flat Track Finals dirt track motorcycle race at the Historic Pomona Half-Mile at Fairplex in Pomona, California.

Synonymous with motorcycle and auto racing, Indy 500 wins, the Turkey Night Grand Prix and most notably the owners and promoters of famous Ascot Park in Gardena, the Agajanian family have had their hand in almost every significant motorsports event in the Southern California area at one time or another.
A Party Atmosphere Including Southern California's Own "Rockabilly" band "The Loveless" to Perform Live

As a special bonus, Southern California's own "Rockabilly" band "The Loveless" will be the musical talent at the event beginning their set at 4:30 p.m in a special concert appearance at the race. Also on hand are motorcyle displays and numerous motorcycle lifestyle vendors. In addition other great events are included free to all fans in attendance, including the rider paddock area being open to all spectators at 5:30 pm to meet the riders and see the racing bikes up close. A special Motorcycle Racing Legends Autograph Meet & Greet, featuring some of the sports biggest stars including Eddie Mulder, Sammy Tanner, Tom Horton, Sunny Nutter, Jody Nicholas, Don Emde, Terry Dorsch, Nick Theroux, Rob Morrison, Ronnie Jones, Eddie Wirth, Jim Filice, Ralph White and more, is scheduled to begin at 5:45 pm.

General Information

Contrary to popular belief, the Law Tigers AMA Flat Track Finals are NOT sold out. Great seats are still available but are selling fast at www.FlatTrackFinals.com or call the ticket office at (888) 72-tickets.

RIDE A MOTORCYCLE TO THE EVENT AND RECEIVE FREE PARKING!

Spectator gates at Fairplex in Pomona open October 13 at 4 p.m. with racing starting at 7:00 p.m. Make a bid at the Rider Travel Fund Auction before the Pro Singles LCQ & help out a GNC rider.

All The Latest Updates and Some Amazing Videos on the Event Facebook Page
---
View original article at
http://campaign.r20.constantcontact.com/render?llr=b6kmnheab&v=001Jh0o9o-zSlIN92niufncuGI0EoO4zISF_VyjuTTdOfLoRVzhc_MWa1yffvjMIX1aemcctzGpRVXxkQRq85V1RHxYUu19D7