Quality Tools & Controls
Your motorcycle tools, cables, and controls specialist!
Chat is Offline
Account
Brown, Ramirez and Cody Join Caselli at Hare & Hound – Round 9
Oct 12, 2012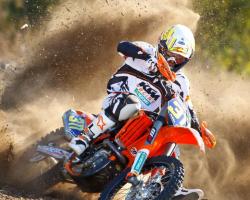 Murrieta, CA – Factory FMF/KTM SCORE/Baja Team riders Mike Brown, Ivan Ramirez and Quinn Cody will join their teammate Kurt Caselli to compete in the 9th round of the National Hare & Hound Series this weekend in Johnson Valley, CA.
Caselli, the reigning National Hare & Hound Champion, is currently sitting 2nd in the standings this year after sitting out part of the series with a shoulder injury. With two rounds left, he is hoping to put his KTM at the front of the pack this weekend to close his point deficit in the overall point standings.
His teammates are using the Hare & Hound event in preparation of the upcoming SCORE/Baja 1000 event. "The terrain of a Hare & Hound race is the most similar race we have to the SCORE/Baja series in the US," stated Cody. "We decided it would be a good idea to get some time on our bikes and practice under our belt by having the whole team race the Hare & Hound."
For more information on the Hare & Hound Series please visit www.nationalhareandhound.com. For updates on the Factory FMF/KTM Team from this weekend's race, follow @ktmusa on Twitter.
---
View original article at
www.nationalhareandhound.com
Racing
,
General News
All Article Tags