Quality Tools & Controls
Your motorcycle tools, cables, and controls specialist!
Chat is Offline
Account
It's the final countdown to the 2012 SCORE Baja 1000
Nov 1, 2012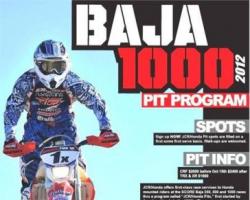 It's the final countdown to the Baja 1000 and you still have time to get signed up for the JCR/Honda Pit service. With just over 20 days before the flag drops on the world's wildest Off-Road race, the time is now. This year's race is a point to point that starts in Ensenada and runs all the way to LaPaz, Baja, Mexico. Don't miss out! Go to www.JCRHonda.com/Pits and get signed up today.
"Nothing compares to the Baja 1000 it's the ultimate test of man and machine. This is the adventure of a lifetime and the 2012 race is set to be the most memorable of all. With a revised Sal Fish point to point course and a battle of the top manufactures for the championship on the line in the pro division. This year is sure to offer great racing action." -- Johnny Campbell
---
View original article at
www.JCRHonda.com/Pits
General News
,
Racing
All Article Tags