Quality Tools & Controls
Your motorcycle tools, cables, and controls specialist!
Chat is Offline
Account
Two Day Format for Las Vegas EnduroCross Finals
Nov 6, 2012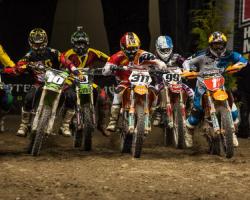 Irvine, CA (November 6, 2012) – Due to the large number of entries, the Las Vegas round of the 2012 GEICO AMA EnduroCross championship, presented by Lucas Oil will feature a two day format. The action will begin at 1:00 PM on Friday, November 16th with practice and qualifiers for all of the amateur classes as well as the non-seated expert riders. Those riders will have the opportunity to qualify for the Saturday "night show", which will include another round of practice and hot laps starting at 1:00 PM on Saturday, November 17th.
The Saturday night show will feature a double main event format for the Expert riders with full points and purse money on the line for both mains. The 30+ Expert riders will have to earn their way into the mains by finishing in the top two in either their heat race or top three in their LCQ. A total of twelve expert riders will qualify so fans will get to see the top riders compete at least three times during the evening, assuming that they qualify for the main events.
And if you can't be there in person, the Vegas event will have a live webcast of the complete night show at www.endurocross.com and www.dirtrider.com.
"With the number of entries for the Vegas finals, it is difficult to squeeze that into a single day so the two day format will allow us more breathing room and time to keep the track in good condition for the riders" said Mike Karsting, VP of events for Source Interlink Media.
"The double main event format for the Experts is awesome for the riders and fans" said Lance Bryson, Director of Sales & Marketing for EnduroCross. "The riders who make the mains have a chance to make up for a bad first race and the fans get to see the best riders compete head to head twice in one night."
Like all EnduroCross events, the pit area behind the Orleans Arena will be open to the public for free all day on Friday and Saturday. And the Arena will also be open for free for the Friday and Saturday afternoon practice and qualifying. So come in early to get your favorite riders autograph and watch them get ready for the big show.
The Las Vegas event tickets are available at www.endurocross.com/buy-tickets/
For more information on the TV Coverage, check your local listings or www.motorsportshour.com.
For more information on EnduroCross, go to www.EnduroCross.com.
---
View original article at
www.EnduroCross.com.
Events
,
General News
,
Racing
All Article Tags