Quality Tools & Controls
Your motorcycle tools, cables, and controls specialist!
Chat is Offline
Account
Las Vegas EnduroCross Track Map and Night Race Confirmed
Nov 12, 2012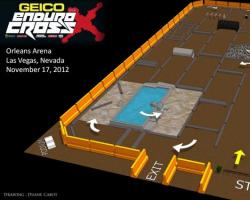 Irvine, CA (November 12, 2012) – The final round of the 2012 GEICO AMA EnduroCross Championship, presented by Lucas Oil will take place in Las Vegas inside the Orleans Arena this Saturday, November 17th. The home of the original EnduroCross event in 2004 will feature the usual diabolical mix of rocks, logs tractor tires, sand and a pool that makes EnduroCross so exciting. And with the qualification rounds taking place on Friday, the difficulty will be increased for the Saturday show that will feature the best EnduroCross racers in the world from the Expert, Open Amateur, Vet, Women's and TrialsCross classes.
And if that track is not crazy enough for you, Baja Designs will again sponsor the night race. This puts the Expert riders that just missed the cut for qualifying for the main event on the track with Baja Designs battery powered Double Stryk helmet lights and they are putting up a $500 check for the winner.
"EnduroCross started in the Orleans Arena and with this being the final round, we always go a little crazy on this track" said Mike Karsting, VP of Events for Source Interlink Media. "With two main events for the Experts, AMA championships on the line for the support classes and the Baja Designs night race, I can't think of a better show for the fans."
The Las Vegas finals will take place on Saturday, November 17th inside the Orleans Arena. Like all EnduroCross events, the pit area behind the Orleans Arena will be open to the public for free all day on Friday and Saturday. And the Arena will also be open for free for the Friday and Saturday afternoon practice and qualifying. So come in early to get your favorite riders autograph and watch them get ready for the big show.
If you can't be in Las Vegas in person on Saturday, for the first time ever, you can watch the entire night show, starting at 8:00 PM PST, via a LIVE WEBCAST. Check out www.EnduroCross.com or www.DirtRider.com for more details.
The Las Vegas event tickets are available at www.endurocross.com/buy-tickets/
For more information on the TV Coverage, check your local listings or www.motorsportshour.com.
For more information on EnduroCross, go to www.EnduroCross.com.
---
View original article at
www.EnduroCross.com
General News
,
Racing
All Article Tags