Quality Tools & Controls
Your motorcycle tools, cables, and controls specialist!
Chat is Offline
Account
Destry Abbott's BAJA 1000 Race Story!
Nov 27, 2012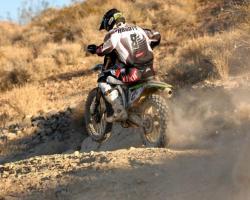 BAJA 1000
November 15, 2012
Baja, Mexico
A little over a month ago Scott Jacobson, from THR, and I talked about having me on the 1000 team. I raced with them for San Felipe race. Unfortunately we had some bad luck there, but were still able to finish and have a shot at the Score championship and 1X plate. One of the reasons I really wanted to do it was the fact that there were three really good teams that were going to be competing for the 1X plate! It just made it that much more exciting and I definitely wanted to be part of that! KTM Bonanza Plumbing had a team made up of Kurt Caselli, Ivan Remirez, Mike Brown, and Quinn Cody. Then the JCR Honda team was made up with Coltan Udall, David Kamo, and Timmy Weigand. Our THR Monster Energy Kawasaki team had Robby Bell, David Pearson, Steve Hengeveld, and myself. This years Baja 1000 was starting in Ensenada and going down to Lopaz for a total of 1,200 miles.
Race Day:
There were a lot of other great riders here, but I really felt there were three major teams that would be fighting for the win towards the end. The KTM team was the fourth bike off while we were the 7th and Honda was the 9th bike off. Robby was the first guy on our team to ride and I don't have much details on how things went for my teammates besides what place they were in. Around 100-miles in Mark Samuels was leading with his team and then the other three guys were able to pass everyone, but still were in the same order behind each other. I was around mile marker 340 and while we were waiting I heard that Coltan (JCR) was able to get by everyone. Robby was able to get into 2nd with the KTM team in 3rd. When the JCR bike got to me David Kamo got on and then it was a little over 10-minutes before Robby showed up. The guys did an awesome job and changed out the wheels and put in a new filter then I was off for the next 250-miles. I never heard any news on the KTM team until I got off the bike so I'm not sure how far back they were. I spent a week and a half down here to get my section dialed and felt comfortable with it! I knew I wasn't going to be able to make up 10+ minutes on Kamo, but just wanted to get it closer before I gave the bike to Pearson. I actually lost some time in the first section since it had a 28-mile road section and you couldn't do over 60mph otherwise you would get docked a minute for each mile per hour you were over. I played it really safe and was riding around 55. For the most part my sections were pretty uneventful until I slid off a high speed jeep road and pretty much had to check my pants after that one! At each pit I was slowly closing in (besides the first one) but it was the last section where I really hammered down since it was the sandiest and roughest part of my section. I knew Kamo had a longer section then me and I figured I better use up all the energy I had before I get off. When I got to my last pit I was told I was a little over 5-minutes back and happy with the way things went for me! The crew changed wheels and a filter again. They also added the light since it was starting to get dark. DP pinned it out of there and then about 17-minutes later Kurt went by (KTM). From here I changed and started to head back to the US (turned out to be 12-hours to the boarder). From this point on I was getting updates from my family back in the states or the THR guys. I heard DP was able to get right on the JCR guys, but couldn't do anything. Then after his section it was Hengeveld's turn to take it to the finish. He's a great night rider and I knew it was going to be an exciting finish. We were able to put more time on the KTM boys so now it was looking like a two team race for the win! Then I got a text from Robby Bell at 2am (yes I was still up and driving). I was told we had a fluke mechanical issue and were out of the race! Steve was still about a minute back with a little over 100-miles to go and it would've been really cool to see how it turned out if not for the bad luck! That stuff is part of racing, so you can't really be mad about it! I was later told that Quinn (KTM) went down and might have broke his femur. Never something you want to hear and I hope everything turns out ok for him. Kurt was able to get back on the bike and still finish second overall for them, but the win gave the JCR guys the championship!
Overall Summary:
I was really excited about this race and knew whoever won this race was going to have to earn it! I was really confident in our team and if not for the mechanical issue I think we would've been right there for the win! I still had a great time and enjoyed working with the THR guys! They're all great people and definitely ran a first class operation! I've only raced the 1000 twice and the first time came really close to the win! Not sure if I'll do it again or this was my last one. It just would've been cool to add to the list of wins I've had!
Top 2 Overall Bikes:
1st Coltan Udall, David Kamo, Timmy Weigand
2nd Kurt Caselli, Mike Brown, Ivan Rameriz, Quinn Cody
Other Notes:
This was my last race as part of the Monster Energy Kawasaki racing team! Still don't have anything set-up for next year, but I'm working on things and I really appreciate everyone's support and kind words! No matter what you'll still see me at the EX races and X Games events! Even if I have to do it on my own I still want to be out there! Here soon I'm working on a new website where I'll be training racers and athletes so be sure to check it out in a month or two www.destryabbott.com. I'll also keep everyone updated on what's in plan for 2013!
A huge thanks to everyone that was part of the THR Baja1000 team. There's so much work that goes into it and I know we all appreciate it! I was hoping to pull off the win for Scott, since he's putting in such a big effort to make this happen! I wanted to thank Bill and Pam Whalton for letting me stay at their house (Bay of LA) while I was down there. Great people and I had a blast with them. Everyone at Precision Concepts did an awesome job and built a great race bike too.
I made it back to the states early Friday morning and then headed up to Vegas for the final Endurocross round and to see my family! I was a little beat, but actually felt ok. I really struggled on the nasty rock section they had (along with everyone else) and just missed the main event again. Pretty bummed, but I'm excited about all the new changes they'll be putting in for 2013! I'm also in for four X Game rounds next year (LA, Brazil, Germany, and Spain). Looking forward to the new format at those rounds!
---
View original article at
www.destryabbott.com
Racing
,
General News
All Article Tags