Quality Tools & Controls
Your motorcycle tools, cables, and controls specialist!
Account
News
Tip of the Month - The Right Tool for the Job
posted Nov 28, 2012
Tags:
Newsletter
All Article Tags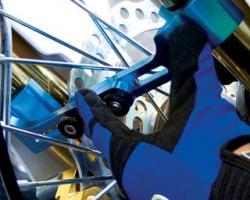 Motion Pro has been designing and producing tools for over 28 years. During this time we have pioneered many new tools and we continue to work hard to provide our customers with the best combination of function, quality, customer service and value.
A good example is the Motion Pro line of T-Handles. Motion Pro makes all types of T-Handles, and was the first manufacturer to offer deep-well hex socket T-Handles. We have continued to expand that line to include fractional size T-Handles, Phillips T-Handles, Allen T-Handles, and a variety of general use square drive T-Handles as well. One of the newest additions are the Spinner T-Handles, which feature a freely spinning grip on the shaft of the tool, along with an extra heavy handle, that allow the user to quickly spin fasteners in and out, saving time.
Motion Pro also has an extensive line of tire service tools including a wide variety of tire levers. A recent exciting addition to our line of tire tools is the Bead Pro bead breaker/lever set, which is receiving rave reviews from magazine editors and consumers. This matched pair of levers, designed for tubeless tires, allows the user to quickly break the bead on virtually any motorcycle and most ATV tires. The other end of each lever features a perfectly contoured tire lever for a tire changing tool that does the job from start to finish. Another recent addition is the Motion Pro Tire Station, a tire changing stand that can incorporate and protect an air tank, providing a ready air supply during tire changing that will cut down the time and effort significantly.
Engine tools are another category where Motion Pro products really shine. From the most extensive line of flywheel pullers available, to valve adjustment tools, and upper and lower engine service tools, Motion Pro has you covered.
Time after time, category after category, Motion Pro should be the first place you look when you have a need for a tool for your motorcycle or ATV. Tools for suspension work, chain, carburetor, ignition systems, fuel and cooling systems, and more, and it's all easy to find the tool you need on our website as well.
Having good tools in your garage is a secure feeling, because you know that you can count on them to get the job done time and again, without hassles or failures. Count on Motion Pro to supply you with the best tools available.