Quality Tools & Controls
Your motorcycle tools, cables, and controls specialist!
Account
News
Anaheim Results
posted Jan 7, 2013
Tags:
Racing
,
General News
All Article Tags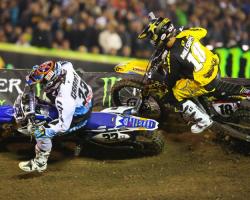 HUNTERSVILLE, N.C. (Jan. 6, 2013) – Angel Stadium of Anaheim was host to the opening round of the 2013 Monster Energy AMA Supercross Championship presented by Toyota. 2013 marks the 39th year of the original extreme sport, which has steadily grown in attendance and media viewership, even since the recession of 2008. SPEED carried the entire event live, including a pre-show and the opening ceremonies. A record 12 of the 17 races will air live on SPEED for 2013. The remaining events will be broadcast on CBS.
Josh Grant and Justin Brayton were eager to start the new season aboard their 2013 Yamaha YZ450F motorcycles. Unfortunately for Brayton, a crash during practice resulted in a badly sprained left thumb and a cut right hand. Brayton was determined to ride and nearly qualified for the main from his heat race, missing a transfer by just one position. He won the LCQ and a spot on the gate for the main event. Grant transferred directly to the main from his heat.
Both Brayton and Grant began the main event in the top-10. As the laps wound down the track claimed several riders, some crashing more than once. Brayton and Grant stayed steady finishing 10th and 11th respectively. The blood on Brayton's right hand grip after the race was testimony to his impressive effort.
The Orange County Register had a feature on Justin Brayton Friday. The article can be accessed via this link:http://www.ocregister.com/sports/supercross-382525-brayton-season.html. The next race on the tour will be on Jan. 12 at Chase Field in Phoenix, Ariz. SPEED will again broadcast all of the action live, starting at 9:30 p.m. (EST).