Quality Tools & Controls
Your motorcycle tools, cables, and controls specialist!
Account
News
N-Fab/TiLUBE/Yamaha SX Round 1 Race Report
posted Jan 8, 2013
Tags:
Racing
,
General News
All Article Tags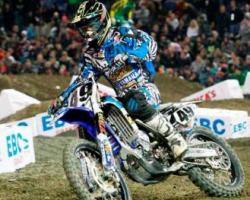 RIVERSIDE, CA (January 7, 2012) A capacity crowd packed Anaheim Stadium for the first round of the 2013 Monster Energy AMA Supercross Series where fans were treated to a spectacular night of racing!
Chris Blose (#84) and Phil Nicoletti (#49) got the day off to a good start aboard their N-Fab/TiLUBE/Yamaha YZ450F motorcycles. Chris and Phil made it cleanly through the afternoon practice/qualifying sessions landing both riders in the second heat race of the evening.
As the pack rounded the first turn, both riders found themselves battling mid-pack starts with Nicoletti in 10th and Blose in 11th. Needing to finish inside the top nine in order to qualify directly to the main event, the duo was within striking distance with six laps to go. Unable to make their passes stick, both riders would be forced to ride the Last Chance Qualifier later in the night. Nicoletti got a solid start in the LCQ and was running second place – the final qualifying position. With two riders applying pressure, Nicoletti would have his work cut out for him, however, an aggressive pass by Josh Hansen in the early laps landed Nicoletti on the ground and out of qualifying position. Unable to rebound from another mid-pack start, Blose also failed to transfer to the main event.
"I had a tough night," said Nicoletti following the race. "This was my first 450 SX start and I learned a lot. I can't wait to get back at it next weekend!"
"This was a tough track and I wanted to get through the first round healthy," said Blose. "The team is great and I'm looking forward to my hometown race next weekend in Phoenix."
Phoenix's Chase Field will play host to the second round of the Monster Energy AMA Supercross Series this Saturday, Jan. 12. Be sure to stop by the N-Fab/TiLUBE/Yamaha truck to show your support and to have your picture taken with Phil Nicoletti and Chris Blose from 12:30 – 5:30 p.m. See you there!