Quality Tools & Controls
Your motorcycle tools, cables, and controls specialist!
Account
N-Fab/TiLUBE/Yamaha SX Round 3 Race Report
Jan 22, 2013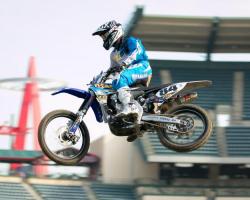 RIVERSIDE, CA(January 22, 2012) – A picture perfect day welcomed racers and fans back to Anaheim's Angel Stadium for round three of the Monster Energy AMA Supercross Series.
N-Fab/TiLUBE/Yamaha riders, Chris Blose (#84) and Phil Nicoletti (#49) once again qualified after posting some fast laps in qualifying. The riders' times resulted in the teammates being split up with Nicoletti contesting the first heat race and Blose the second.
Nicoletti elected to line up to the left side of gate, alongside series points leader Davi Millsaps. As the pack charged down the start straight something happened to Millsaps' motorcycle causing him to lose control. Nicoletti was the unfortunate victim, hitting the ground hard and resulting in an early end to his night of racing.
"Everything was looking good going down the start and out of nowhere Millsaps' bike just slammed into me," said Nicoletti following the race. "While my mechanic Joel was getting the bike ready for the LCQ I started to feel dizzy and nauseous so I felt it was time to call it a night."
In heat race two Blose got off to a decent start but found himself in 13th position at the completion of lap one. By the halfway mark Blose had moved into 10th position – one place shy of qualifying. On lap six a mistake by Justin Barcia allowed Blose to get by and take the final transfer spot, securing his spot on the line for the Main Event.
By virtue of an 18th place gate choice, Blose was forced to line up to the far outside of the start line. As the riders came skidding into the first turn Blose looked for an opening on the inside in an effort to get to the front but could not find one. Battling from the back of the pack he worked hard to make as many passes as possible. At about the half way mark he would settle into 17th and ride steady and consistent laps to the checkered flag.
"It feels good to get the monkey off my back," said Blose. "It was good to get back in the main where I know I belong. The competition has been really good this year and I am going to keep working hard to get back to where I belong."
The series travels to Overstock.com Coliseum for round four of the Monster Energy AMA Supercross Series this Saturday, Jan. 26. Be sure to stop by the N-Fab/TiLUBE/Yamaha truck to show your support and to have your picture taken with Phil Nicoletti and Chris Blose from 12:30 – 5:30 p.m. See you there!
General News
,
Racing
All Article Tags