Quality Tools & Controls
Your motorcycle tools, cables, and controls specialist!
Account
News
Motion Pro was on site to help with the Ride Orange off-road bike demos in Hollister Hill
posted Jan 29, 2013
Tags:
Racing
,
General News
All Article Tags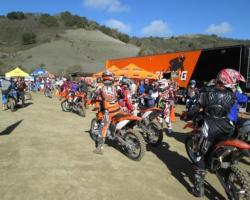 It was a good weekend to be on Orange in the Bay Area this past weekend! At the Oakland SX on Saturday night, Ken Roczen won the 250SX class and took over the points lead. In the 450SX class, Ryan Dungey charged from 12th to finish on the box in 3rd for the evening. So after watching a great night of SX, what do you do on Sunday?
For over 150 riders, they headed out to the Hollister OHV park to check out the 2013 SX, XC and XC-W KTM's. A little rain late in the week plus some Sunday sun made for a perfect day of riding. With 23 bikes and 17 different models of KTM's to ride, the only tough part was picking a model to start with. Patrick Garrahan did a great job with lining everything up for the event, plus he had all his dealers on-site to help. Moto Cafe, Moore & Son's, ACE and Scuderia were all at the event to make sure the ride went smoothly. Brad from Moto Cafe also brought his giant grill to make sure no one went hungry. Sid and Rookie were doing a great job as usual, plus we had some bonus help from the gang at Motion Pro. For the lead and sweep on the Off-Road loop we had Garrahan Off-Road Training plus some of our area support riders get the riders out and back on a fun loop.
This was the 6th year for this event and every year it gets bigger and better. Patrick is a big reason for this and by lining up a great location, dealer help and sponsor support, it really adds to the enjoyment of the people that come out to ride. We also had a large selection of KTM's to ride, plus having an off-road loop and an MX track really let the customers see what the bikes are all about.