Quality Tools & Controls
Your motorcycle tools, cables, and controls specialist!
Account
News
ROCKSTAR ENERGY RACING'S DAVI MILLSAPS MAINTAINS AMA SUPERCROSS POINTS LEAD AFTER THE LAST ANAHEIM STOP OF THE SERIES
posted Feb 5, 2013
Tags:
General News
,
Racing
All Article Tags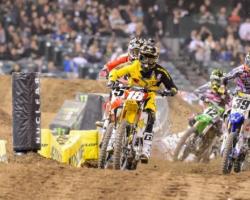 Los Angeles, CA (February 4, 2013) Davi Millsaps took home second place in the 450 class main event on Saturday at Angel Stadium in Anaheim and retains the red plate as the AMA Supercross series points leader. His teammate, Jason Anderson, faced some tough set backs but still earned himself fifth place in the 250 main event. The pair had come off the team's best collective performance in Oakland one week ago where both riders landed on the podium. They came into A3 looking to build on that momentum.
Davi Millsaps is without question, the most consistent rider on the track every week and he has proven this by being the only 450 rider to have held the red plate in 2013. He started off Saturday night's 450 class racing with a textbook ride in his heat race, earning him the win. The main event was much more challenging as he engaged in some pretty heated battles and sprinkles of rain fell from the sky on the hard packed Anaheim soil. At one point it looked like Davi was going to make the pass for the lead and at other times it appeared as if he would fall to fourth. It was an emotional roller coaster for all involved but an amazing race for the fans as none of the 41,294 spectators were using their seats. As the race concluded, Millsaps took home second. He has shown the consistency, speed, and intelligence needed to win the championship. Davi acquired his fourth podium in five tries. More importantly, he doubled his lead in the title hunt to a stellar 14 points!
"All in all it was a good smart weekend. I didn't get that great of a start but somehow I came out of the first turn pretty decent, then a bunch of people went down so that helped me out. I'm not gonna complain about that. I almost threw it away on lap eighteen but I pulled it together. There are a bunch of guys out there that can win any weekend. This is [Ryan] Dungey's first win so that's pretty cool for him. I had some good battles, it was a good race and I'm just pumped to be on the podium. I'm trying to be as consistent as I can." - Davi Millsaps
Oakland was Jason Anderson's first podium of the year, although he has been fast enough to be on the box every weekend. After the first qualifying practice this weekend, Jason had to head back to the semi, watch videos, and find some way to pick up almost two full seconds. He most certainly found a faster way around the track in the final practice, laying down the third fastest time. In his heat race, he rounded the first turn in what seemed to be last place but he knifed through pack in the first couple sections with surgeon like precision and moved all the way up to third. As he was passing into second place, he came into contact with another rider and went down. Anderson got up and posted the fastest lap time of any rider on the final lap, and the only one in the 52 second range. He secured third place with his efforts.

It's no secret that earlier in the year Jason was struggling a bit with his starts in the mains. He remedied that problem last week and it resulted in a podium. This week he had another great start and it looked like he would exit turn one in the top three. Then he was hit from behind which knocked him back several positions. He ran into some more adversity shortly after when he was knocked off the track losing more positions. He worked his Rockstar Energy Racing ride all the way back into fifth place by race's end. Anderson absolutely rode well enough to be on the podium but that's racing. He will want nothing more than to return to the top three next week in San Diego before the West Coast 250 Series takes a few weeks off.
"Today went good but not good. I was just figuring stuff out first practice and had a good second practice. Had some crashes. Came out of the night with a fifth. Gotta go and work on my notes from the night now. I don't feel like I did too much wrong, I just need to stay out of the squirrely mid pack." - Jason Anderson