Quality Tools & Controls
Your motorcycle tools, cables, and controls specialist!
Account
News
Featured Product - Revolver Throttle Kit
posted Feb 6, 2013
Tags:
Newsletter
All Article Tags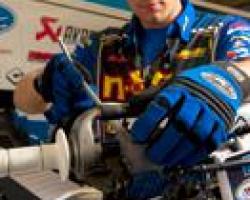 Motion Pro invented the Revolver throttle, an innovative throttle system that sets the standard for adaptability and function, to help every rider with throttle control. Experienced riders and racers, both on and off road, talk about throttle control and traction management to meet changing riding conditions and to control acceleration and tire spin. This is an important part of bike control and riders that master this skill get the best performance from their machine.
Experience is the best way to improve throttle control, but throttle sensitivity can be changed mechanically to suit riding conditions and rider preferences to great advantage no matter what your level of skill. For quite a few years experienced riders would simply install a throttle tube from another model motorcycle that would shorten or lengthen the twist of their throttle. But this was always a makeshift modification, and because the throttle housing was not designed to fit the tube, the cable angles were incorrect and the throttle would feel rough and notchy and cable wear was accelerated too.
Now, with the new Revolver throttle kit by Motion Pro, you can tune your throttle to your desired performance settings, not unlike tuning your suspension or engine. The Revolver throttle includes 4 different size reels, in 5 mm diameter increments from 35 mm to 50 mm. This allows a user to change the twist of their throttle in approximately 10 degree steps to perfectly fit their riding style and conditions. The 50 mm Revolver reel is significantly larger than anything else commonly available and provides the fastest throttle rate. The Revolver cable elbows, part of our patent pending design, automatically adapt to the cable angle changes caused by the different reel sizes, ensuring buttery smooth feel and sensitivity. The cable mounting points on each throttle reel feature an innovative design that allows reels changes without readjusting the cables. No other throttle incorporates all of these innovative features and no other throttle system provides the range of adjustment available with the Revolver throttle kit.
The Revolver throttle is offered as a complete kit, tailored to each model motorcycle. Revolver throttle kits include a Revolver throttle housing (your stock throttle housing cannot accommodate the size of the larger Revolver reels), Revolver throttle tube, interchangeable 35, 40, 45, and 50 mm reels, Motion Pro black vinyl Revolver throttle cables, and a set of our completely redesigned medium density Motion Pro Road Control or Dirt Control grips. Motion Pro Revolver throttle cables are hand made with high quality materials and include tool-less billet aluminum adjusters that allow a user to fine tune the cable adjustments without having to pick up any tools. Spare and replacement parts for the Revolver throttle are available separately.
For riders looking for a progressive throttle feel, we offer three different cam type reels for off road applications and one cam reel for sport bike applications. The cam reels allow the throttle to feel like a slow turning throttle on the initial portion of the twist and then ramp up to a faster twist as the throttle is opened further -- Offroad: p/n 01-1165 (reel A), 01-1166 (reel B), 01-1167(reel C), and Sportbike: p/n 01-1178. Graphs of the cam profile for each of the cam reels is available on our web site to help you select the ideal cam profile for your needs. http://www.motionpro.com/motorcycle/articles/view/3012/cam_reel_performance_graph/
We also offer an accessory unbreakable Titan throttle tube for motocross and off road riders that need a throttle tube that can survive a hard crash and still get you to the finish line (p/n 01-1172).
The Revolver throttle system is the product of many years of careful development and has been thoroughly tested and proven. Whether you are a sport bike track day rider or racer looking for a more aggressive throttle, or an off road rider looking for a throttle that is fast on the track and sensitive on the trails, the Revolver throttle provides the performance you want. Revolver throttle kits retail at $154.99. For more information and a full list of applications visit us on the web at www.motionpro.com or call us at 650-594-9600. Motion Pro products are available from your favorite dealers.