Quality Tools & Controls
Your motorcycle tools, cables, and controls specialist!
Account
News
Racing News - SUPERCROSS!
posted Feb 8, 2013
Tags:
General News
,
Racing
All Article Tags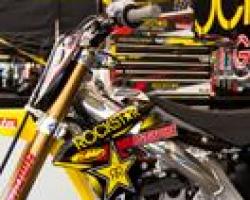 Supercross is in full swing now, completing the 6 race West Coast swing this weekend in San Diego following visits to Aneheim, Phoenix and Oakland . The visit to Oakland two weeks ago gave all of us at Motion Pro a chance to check out the action ourselves.
The 2013 series is off to a great start with some new faces up front along with the series stalwarts, and it seems like there is a different group on the podium every weekend!
Motion Pro is supporting a lot of Supercross teams this year, with the Rockstar Suzuki team at the top of the heap. Davi Millsaps of Rockstar is currently leading the points in the 450 class, and Jason Anderson and Ryan Sipes have several top finishes in the 250 class as well. The Toyota/JGR/Yamaha team relies on Motion Pro tools to get the job done and JGR rider Justin Brayton sits in 9th place overall. Honda Rider Andrew Short is on board with Motion Pro and is holding onto 6th place. The N-Fab/TiLube team is finding their legs using our Revolver Throttle, Titan throttle tubes and T3 cables and Motion Pro sponsored privateer Weston Peick has been putting in some solid performances, finishing in front of a lot bigger team efforts.
There are several new teams that Motion Pro is proud to support. HRT Racing, Rocky Mountain ATV/MC Racing, and EMT racing, all of whom have put in good showings so far this year. Keep your eyes on these new efforts; I think you will see them making a serious impression in 2013.
Supercross is getting stronger every year, with some attendance records being broken already, and an excellent live TV package. So if you can't get out to the races yourself, you can catch all the action from the comfort of the couch in your living room.
For all the Motion Pro fans out there reading this, did you see Davi Millsaps' mechanic wearing the Motion Pro back pack when he hugged Davi after his A1 win on live television? That was really cool! You can also see Motion Pro pit boards lining the track, as the rider's mechanics give them strategy and information during the race.
After each race weekend, don't forget to head over to the Racer X website, where Motion Pro sponsors the Sign of the Lap Times page with tons of race information available to all the fans. http://racerxonline.com/category/sign-of-the-lap-times
Motion Pro would also like to take this opportunity to offer our best wishes to Kevin Windham, who announced his retirement at A2 this year. Kevin has been racing Motocross and Supercross professionally for 19 years and at 34 years old is the elder statesman of the sport. In a racing discipline that is known to be injury prone, Kevin's career stands out, not only for his competitiveness but also for his natural talent, class and character, making him popular among both racers and fans. Congratulations on an amazing career, K-Dub, and good luck to you.
The season is just getting under way, with 13 more races to go until the season finale in Las Vegas. There is lots more action to come, and it's anyone's guess who will come out on top at the end of the season!