Quality Tools & Controls
Your motorcycle tools, cables, and controls specialist!
Account
News
ROCKSTAR ENERGY RACING'S DAVI MILLSAPS TAKES ANOTHER 450 WIN WHILE TEAMMATE JASON ANDERSON PODIUMS IN THE 250 CLASS AT SAN DIEGO!
posted Feb 11, 2013
Tags:
Racing
,
General News
All Article Tags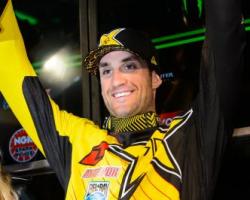 Los Angeles (February 11, 2013). Davi Millsaps earned another 1st place finish in the 450 class on Saturday in front of a roaring crowd at the AMA Supercross Series stop in San Diego, CA. Millsaps retains the red plate and has strengthened his lead while Jason Anderson, Millsaps' Rockstar Energy Racing teammate, took home 3rd in the 250 class and now sits 4th overall in points.
For a city with an average rainfall of 10.77 inches per year, San Diego seems to get 2 of those inches on a race day or the days prior. This year was no different as it rained much of the day and night on Friday. Fortunately, the Track Wurx crew was prepared for inclement weather, covering the entire racing surface in plastic. During track walk it was clear the first practice or two would be a little bit muddy but would turn out okay after a few laps were cut in. However, even though the mud was cleared off, the remaining soil was very hard packed. It was gonna be slick and throttle control would prove to be vital.

Rockstar Energy Racing has been on a high all year particularly after the best overall performance 3 weeks ago in Oakland since the team's inception. It was the first time Rockstar Energy Racing had ever had a rider on the podium in each of the 250 and 450 classes. Davi Millsaps finished 2nd place and Jason Anderson 3rd in their respective classes. The riders would better that performance in San Diego with Jason again taking the 3rd place position but Davi bettering his result with a victory. 2013 just keeps getting better!

Millsaps' last win prior to his A1 victory earlier this year was a mud race in 2010, coincidentally in San Diego. Because Millsaps doesn't like to talk stats much, it is also a little known fact that this weekend was his 100th consecutive SX start. That is a huge accomplishment with just how technical, competitive and just plain gnarly Supercross tracks are. Millsaps started the 450 main with a holeshot and while he was pressured at times by advances from Chad Reed and Justin Barcia, he remained unaffected. Davi rode a flawless race en route to his second victory of 2013. He now has a little breathing room as the series heads east. Davi Millsaps' season thus far is one of the best stories in recent history - a rider who came into the series off the radar, went wire to wire in his 100th consecutive start and now celebrates a 19 point lead in the premiere class.
"I'm doin the best I can. If it's me winning, or me second, or me third, as long as I'm doin the best I can, I'm happy with it. I'm definitely pumped for the whole team, myself and everyone behind me. Just for everyone, it was a pretty cool night. I think this win is a little cooler than the one at A1 cause I've never gotten the holeshot and led all 20 laps of a main event before. For me it was really special that I led the whole race without getting passed. You can't take anything away from the Anaheim 1 victory though. Everyone wants to come in and win that one. The season opener is a special one too. The difference this year has been the preparation. I'm on a bike I love, that I'm comfortable with, a team that's behind me and willing to give me anything I need and work with me. All of that for sure." - Davi Millsaps
Jason Anderson rode a stellar heat race as he was engaged in a four way battle throughout the duration of 6 laps. He stayed strong physically and mentally crossing the finish line in second place. Then after the gate dropped for the main, he fought through the first turn emerging out front! That was also a milestone as Rockstar Energy Racing has never earned hole shots in both the 450 and 250 main event in one night. Anderson, just like his teammate, rode a nearly flawless race. By race's end he finished on the podium for the second time in 3 races and his third consecutive top 5. It was very important for him to have such a good result prior to the long break before the west coast 250 series returns to Seattle in mid April. With Jason's effort in San Diego, he made a huge jump in points. Although he only moved up one position from 5th to 4th, he made up a ton of ground and now sits a mere 7 points out of the top 3 with 3 races remaining.
"It was a good night, I struggled a little bit in practice and ended up qualifying 7th. I got good starts all night and ended up running up front so I'm happy about it. I got the holeshot in the main! Kind of unexpected for me. I actually shocked myself when I was up front but you know it's a good feeling to be up there. I've just been applying what I do at the test track to what I do at the races. That's what I've been working on. I've always been a good rider and been fast, it's just been about putting it all together. This is only my third holeshot in 3 years since Loretta's so I need to improve on that" - Jason Anderson