Quality Tools & Controls
Your motorcycle tools, cables, and controls specialist!
Account
News
FMF/RPM/KTM Racing Team Maxxis - Primm WORCS Race Report
posted Feb 13, 2013
Tags:
General News
,
Racing
All Article Tags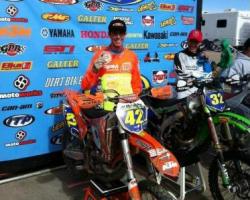 Dear Sponsors, Friends and Fans,

With February upon on us, our racing momentum continues as we recently journeyed to round two of WORCS this weekend. After a successful venture at round one, the team and I came to Primm, Nevada with high expectations. Our team fulfilled those expectations this weekend, and I could not be more proud of the entire crew.

I want to take this time to thank our WORCS riders Justin, Ty and Eric, as well as mechanics Robbie Goolsby and Caesar Garcia, the Tremaine's and Yorba's, Meg Blackburn, Bonanza Plumbing, our sponsors and everyone who cheers us on in the pits and on the track.

We have a few exciting announcements coming your way in these next weeks, so stay tuned and be sure to follow us on our Social Media channels.


Sincerely,
Michael Hurlbert
RPM Racing Team
Jones Earns First WORCS Pro Podium
In Justin Jones' first official WORCS season as a Pro, he has officially gained a taste of podium success. Although Jones hasn't spent much time in the Pro ranks, it has been a long time coming for the off-road racer who has put in a tremendous amount of effort into his program. "After round one in Arizona, I got my nerves out of the way and I realized what stood ahead of me. I came into Primm with confidence and excitement." Jones expressed.

After working with mechanic Robbie Goolsby on Saturday to get the bike dialed, Jones jumped on the start line Sunday ready to take on the rough, sandy course. Jones had a rough start in the chaotic Pro/Pro 2 mix and knew he had his work cut out for him as he had to begin moving up from the back of the pack. Lap by lap Jones put down sturdy lap times on his FMF/KTM/RPM/Bonanza Plumbing Maxxis powered KTM. Moving his way past Bobby Garrison and Ryan Abbatoye, Jones solidified himself into third overall for the few final laps; taking the checkers for his first-ever Pro podium in just his second attempt in the Pro ranks. Big thanks goes out to Bonanza Plumbing for their team efforts in supporting us and making this successful weekend podium a possibility.

Jones now sits 4th in points and you can see the full results HERE.

Yorba Dominates Pro 2 Podium
Tremaine Maintains Points Position


After a successful attempt at round one of WORCS in Arizona, our Pro 2 teammates Eric Yorba and Ty Tremaine came into the weekend in Primm, Nevada with much confidence. On Saturday, the boys lined up for the 450A race that would get them qualified for Sunday's Pro 2 class. Off the start in 450A, Tremaine dueled for the holeshot and took the lead on his KTM 450XC, while Yorba began mid-pack off the asphalt start and began to play catch-up. By lap three, Yorba surged past Starr Savage and his teammate Tremaine for the lead. Yorba went on to take the final win, just ahead of Tremaine.

Both Yorba and Tremaine lined up as the first row to take off for the two-hour Pro/Pro2 event. The green flag waved, the dead-engines were ignited and the racers took off. Yorba charged with the front group and moved from fourth to first in lap one. Instantly charging past the three front runners, Yorba set the pace for the Pro 2 field for the next two hours putting down some aggressive laps. His ability to ride strong in the rough track conditions allowed him to carry his momentum and take his second consecutive Pro 2 class win.

Meanwhile, Tremaine suffered an unlucky start and was forced to work his way up substantially, from twelfth to fifth over the lapse of two hours. Mid-race Tremaine settled himself nicely into fifth position and kept a grip on it to the checkers. Tremaine's performance keeps him second in points behind teammate Yorba going into round three.

See the full results HERE.

Louise Forsley Shows Impressive Skills at King of the Motos
One of the newest additions to the FMF/RPM/KTM Racing Team Maxxis family, Louise Forsley, took on the annual King of the Motos in Lucerne Valley, California one week prior to round two of WORCS. Forsely was the only woman to race the event and her talent on a bike was not overlooked. In the 80-mile race, Forsely worked her way towards the front, ahead of nearly the entire amateur group. After mistakenly missing her gas pit, Forsley corrected her mistake and again worked her way into second overall. In just the last miles of the race, Forsley was descending a rocky canyon where she tipped over- puncturing the clutch cover and losing all her oil. "King of the Motos was the most challenging race I have ever done. I went into the event with an unknowing mind. I am really happy with my riding and my KTM, but very disappointed I couldn't finish. I will be back next year much more prepared!" Forsley stated.

Forsley now begins her training for X Games and Endurocross for the 2013 season.