Quality Tools & Controls
Your motorcycle tools, cables, and controls specialist!
Account
News
Motion Pro supported Davi Millsaps solid in Atlanta, maintains points lead. Wharton just misses podium, takes 4th
posted Feb 25, 2013
Tags:
General News
,
Racing
All Article Tags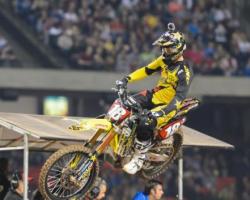 Los Angeles, CA (February 25, 2013) The AMA supercross series hit its second East coast stop at the Georgia Dome in Atlanta on Saturday. Davi Millsaps took home 3rd in the 450 main event in front of a crowd of 70,000 people, allowing him to retain the red plate as series points leader with a comfortable lead. He is still the only 450 rider to have the red plate this season.
Davi Millsaps was once again strong in practice, posting the 4th fastest qualifying lap time of the day, battling with the other fast five usual suspects. His heat race was impressive and he quickly amassed a 7 second lead in the short 8 lap race. He faced a tough start in the main but was able to work his way back up to 3rd quickly and efficiently. Millsaps fought the leaders but the slippery track and small mistakes kept him in 3rd. His ability to come back from such a bad start and make up the amount of time he did shows his strength as a rider and proves why he is the points leader. Being on the box 7 times out of 8 races is incredible and Davi once again added to his points lead, now sitting 22 points ahead of Ryan Villopoto.
"I'm feeling a little better this week. I still have sinus problems. I don't know what it is. It's pretty bad and I've been taking stuff for it all day. It get's to the point where I can't see very well and I'm definitely having trouble breathing. All in all the cold is gone but these symptoms are just lingering. I'm pretty over it and I'm not gonna let it hold me back anymore. [James] Stewart and [Ryan] Villopoto just rode a really good race and I didn't get the best start. I was trying. I was just making little mistakes everywhere. I was worried about them and [Justin] Barcia. I need to quit doing that and just worry about myself. All in all, I'm just pumped to be on the box again and go into St. Louis." - Davi Millsaps
Teammate, Blake Wharton, had a tough start to the East Coast 250 Series in Dallas but was able to collect himself and finish a commendable 2nd place. This week he had a much more successful heat race finishing in 3rd and qualifying easily. Wharton got a good start in the main and spent the majority of the race riding by himself. He rode a clean and smart race as he quietly finished a solid 4th place position. After two rounds, Blake finds himself 3rd place in overall championship points. Just as Davi has done in the 450 class, Wharton will look to stay consistent and be in the hunt for a title til the end.
"Today was the 2nd round, east coast in Atlanta.Track was pretty good, it definitely had some different lines. I don't think anyone can argue that. The dirt was pretty good. In both my heat and the main I got pretty decent starts. This week was better cause I didn't have to go to the LCQ but I didn't do as good either. It was like a trade off. The end result wasn't as good but it was alright. I rode up front for a little while but I rode kind of tight. I'm glad I salvaged a 4th." - Blake Wharton
Rockstar Energy Racing will head to the Edward Jones Dome in St. Louis next week. Millsaps will aim to continue his string of podium finishes and extend his points lead. Wharton will set his sights on getting back on the podium and tightening up the championship chase.
450SX Class Results: Atlanta
1. James Stewart
2. Ryan Villopoto
3. Davi Millsaps
4. Justin Barcia
5. Trey Canard
6. Ryan Dungey
7. Eli Tomac
8. Chad Reed
9. Jake Weimer
10. Mike Alessi
11. Matt Goerke
12. Broc Tickle
13. Justin Brayton
14. Andrew Short
15. PJ Larsen
16. Josh Hill
17. Chris Blose
18. Les Smith
19. Jimmy Albertson
20. Robbie Kiniry
450SX Class Points
1. Davi Millsaps, Murrieta, Calif., Suzuki, 174
2. Ryan Villopoto, Poulsbo, Wash., Kawasaki, 152
3. Ryan Dungey, Belle Plaine, Minn., KTM, 148
4. Trey Canard, Shawnee, Okla., Honda, 135
5. Chad Reed, Australia, Honda, 127
6. Justin Barcia, Ochlocknee, Ga., Honda, 116
7. Andrew Short, Smithville, Texas, KTM, 102
8. James Stewart, Haines City, Fla., Suzuki, 100
9. Justin Brayton, Cornelius, NC., Yamaha, 91
10. Matt Goerke, Lake Helen, Fla., KTM, 79
Eastern Regional 250SX Class Results: Atlanta
1. Wil Hahn
2. Dean Wilson
3. Marvin Musquin
4. Blake Wharton
5. Jeremy Martin
6. Justin Hill
7. Gavin Faith
8. Kyle Peters
9. Vince Friese
10. Zach Bell
11. Mitch Oldenburg
12. Lance Vincent
13. Cole Thompson
14. James Decotis
15. Steven Clarke
16. Gareth Swanepoel
17. Adam Gulley
18. AJ Catanzaro
19. Kurtis McCabe
20. Jackson Richardson
Eastern Regional 250SX Class Points
1. Dean Wilson, Scotland, Kawasaki, 47
2. Wil Hahn, Decatur, Texas, Honda, 45
3. Blake Wharton, Pilot Point, Texas, Suzuki, 40
4. Marvin Musquin, France, KTM, 35
5. Kyle Peters, Greensboro, N.C., Honda, 31
6. Justin Hill, Yoncalla, Ore., Kawasaki, 31
7. Gavin Faith, Fort Dodge, Iowa, Honda, 28
8. Vince Friese, Cape Girardeau, Mo., Honda, 24
9. James Decotis, Peabody, Mass., Honda, 20
10. Lance Vincent, Youngsville, La., KTM, 20