Quality Tools & Controls
Your motorcycle tools, cables, and controls specialist!
Account
KTM Prepares to Defend SCORE/Baja San Felipe 250
Mar 6, 2013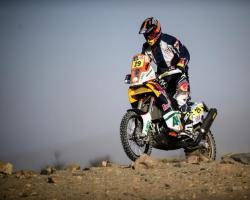 Murrieta, CA – Factory FMF/Bonanza Plumbing KTM rider Kurt Caselli and Ivan Ramirez will return to San Felipe, Mexico to defend their SCORE/Baja San Felipe 250 title this coming weekend aboard their number 2X KTM race machine.
The two riders won the event last year aboard the carbureted version of the KTM 450 SX-F. Caselli and Ramirez have both been in Mexico for the last week alongside fellow KTM riders Mike Brown and Toby Price. Brown and Price will race on an identically prepared KTM 450 SX-F with the number 3X. All four riders have been pre-riding the course since the course opened to competitors last week.
"So far our riders have reported that the course is slightly different than last year but that they are happy with the changes,' commented Team Manager Antti Kallonen. "We are looking forward to getting out front early and hopefully having a repeat of last year's win."
Racing
,
General News
All Article Tags