Quality Tools & Controls
Your motorcycle tools, cables, and controls specialist!
Account
News
Motion Pro supported Eden Chopper Class
posted Mar 6, 2013
Tags:
General News
All Article Tags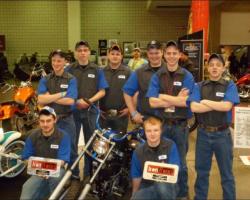 Six years have passed since a small group of Eden Central's Technology Education students researched, designed and fabricated their first complete/functional V-twin. Initially the program had a limited number of students and sponsors participating because of limitations within the traditional academic system. But the student's continuous determination and unyielding support from our sponsors like Motion Pro has created a culture/atmosphere of "Chopper Building Tradition" at Eden Central. Sponsorship is the Chopper Clubs lifeblood, and has allowed the program to continue growing. The student's most recent build, pictured below, won a couple of awards at the 2012 Donnie Smith Chopper Class Challenge competition. Awards are great because they validate the efforts of all involved parties but pale in comparison to the value of the "real world" skill sets that the kids have prior to graduating high school. Thanks to the crew at Motion Pro for helping prepare my kids for post high school success.