Quality Tools & Controls
Your motorcycle tools, cables, and controls specialist!
Account
News
InSLIDE Line 10....Live From Daytona
posted Mar 8, 2013
Tags:
General News
,
Racing
All Article Tags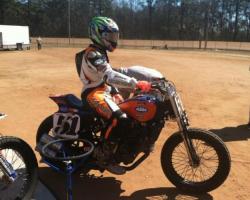 Hello, and welcome to the InSlide Line Presented by Bell Helmets. This week's column is coming to you from chilly, sunny and windy Ormond Beach Florida! That's right, Fight For Dirt Track is kicking it in the J&P Cycles parking lot for Bike Week once again. Much like I posted on Facebook this week, "Everybody is out testing their bikes, and I'm all like, "Hey, wanna buy a windshield?"" If you are down here, come on by our booth, I'd love to set you up with a new windshield or fairing, but if you aren't in the mood of having the best value on wind protection in the industry, I'd be more than happy to talk racing with you too! With the national season kick off right around the corner, let's get started.

After a little scheduling mix up concerning my job at Memphis Shades and the Daytona short track, I contacted AMA Pro Racing's flattrack director Dan Johnsen to attempt to get things straightened up. Talking to Dan is always pretty entertaining, because he has a good sense of humor and he's a good guy who I believe really has our sport's best interests involved. This may be clouded by the fact that Dan may not always have the budget he needs to make things happen or something like that, but deep down, I think he wants to do anything he can to help the sport and it's riders. While chatting with him, I was able to get a little insight on the schedule, which, like most years isn't truly set in stone yet. According to Dan, the May 4th date in Arizona is nearly a done deal. Apparently the track ownership changed hands, but things, or at least what he told me, are on the right track. I did forget to ask him about the proposed Rapid City South Dakota date, but he did tell me that the Reno Nevada race that had been planned to take place just before the Santa Rosa Mile had been taken off of the schedule to do a few conflicts out of his control. I will keep digging on this schedule stuff and passing the news along!

Last week you may remember reading this in the column: "In other Pre-Season news, it seems thatSammy Halbert is going to try to make a go at Daytona after all. Reports are coming out of Northern California that Sammy is on the mend and stated that he just couldn't afford to lose that amount of points by skipping Daytona. Sammy has had a lot of luck at Daytona and there isn't a doubt in anyone's mind that if he does indeed suit up for both nights of the national, that he will be a threat to win...." Friday morning I got a text from Slammy himself and he was none too happy that I posted that. He stated that he was trying to keep it a secret. For one, I don't understand what good that does for anybody trying to keep whether you are going racing a not a secret, but hey, Sammy's talent level is far beyond what I can even comprehend, and I know that racing at any level has a very elevated mental game to it. Now here's the deal, will he or won't he show up in Daytona? I would say by the series of text messages that I got from him that he was honestly upset that we spilled the beans on this site. However, on the same token, I have also heard some false news from that camp that was posted to see if I would put it up on the site and ending up looking like a larger idiot that some people already think that I am. So, my official opinion is, I don't know. I would say that we see him there. Sammy can ride Daytona like nobody's business, and hurt or recovering, whatever his status is, he can win there. On top of that, the sport needs him. He has a lot of passionate fans, people that want to see him on the track, so I would hope that if he could saddle up, he would. Plus, even though he already has achieved a Grand Slam in our sport, I would say he still wants that number 1 plate bad enough that sacrificing 50 or more points would be a little too much for his title hopes. There is however just a small piece in my brain that wonders if he was just upset that another flattrack news publication that he is affiliated with didn't post the news before I did? That wouldn't seem right to me since nobody in dirttrack news is really making a living at it. There wouldn't be too much of a reason to be so cut-throat! All in all, I was still shocked to hear from Sammy because over a year ago he told me he didn't read our site. Hey, no matter what they may think of the content, if we have the attention of the top racers in our sport, I would say that is a good thing!

Tons of testing going on right now all across the Southern states. Waters' Autobody Racing and the Lloyd Brothers tested together on Wednesday and both teams are admitting some very favorable results. David Lloyd said that while things did go will with their bike, they won't have any really good data until the racing takes place this weekend. On the Waters' Autobody side of things, they tested 2 of their bikes from last year. One bike suffered a bit of a mechanical issue, but on the one that was good to go, team rider Steve Murray and Canadian racer Don Taylor wore out a lot of tires putting it through it's paces. The good news is that the team nearly has it's new Lazer Framed KTM ready to go and they are expecting for that to be a huge improvement.

Steve Murray All Set To Do Some Laps

Brandon Robinson has been putting in a lot of laps on the Burnett Farms, USC Kawasaki, Hart Racing Kawasaki this week. They did test a new frame of theirs out, but with their very limited amount of time on that new frame, they weren't sure of which direction they wanted to go in at this time. Team rider Brandon Robinson also tested his USC Kawasaki 450 this week and I'm not sure how that went, but I know the bikes look good!



Looks like Mack Daddy Racing and Kiesow Racing are ready to get after it in Daytona with their rider Jeffrey Carver!



Since it seems that 80% of the dirt track community is going to Florida, don't forget that Gary Kinzler from Light Shoe will be around in his hot shoe shop on wheels the entire time. He will be following the Steve Nace Racing Promotions races around Georgia and Florida, as well as setting up at the national in Daytona I believe. Just look for the big bus, and you'll find Gary welding away. Tell him Fight For Dirt Track sent you!

Don't forget all of the races from Steve Nace Racing Promotions. Steve will be apart of 7 races in 8 days, 5 of those with him as the promoter. Things kick off in Pooler Georgia, otherwise known as"Savannah" to most on March 9th. The next day, things head over to the same short track where the Pros and Experts will do battle a few days later at Daytona International Speedway, March 10th. On March 11th and 12th the bike week racing festivities continue at Volusia Speedwaywith a 1/2 mile on the 11th and a short track on the 12th. Outside of the race at the Daytona Short Track, the other 3 events are all Hole Shot events, and if you race all 3, you get points toward the Amateur Grand National Championships. For every bit of information you need, head on over toSteveNaceRacing.com

If you need tires in Daytona, AMA Pro Racing announced Wednesday that Orange Custom Cycleis the official distributor for Goodyear Tires for the national. For pricing and availability, contactDavid Hill at 352-468-3979 or david@orangecustomcycle.com. Orange Custom Cycle is located at 7220 NE Highway 301 in Orange Heights Florida.

Even though things are still a week away, being that this is a Friday column, it is time to be making Daytona predictions. I haven't done these in a long long time and being that Daytona is a total crap shoot, this should be very entertaining. To keep things simple, we will pretend that there is only one day of racing. This gives you less to read, and boosts my chances of getting something right if I get to use picks for 2 days of racing. Win-Win right? Let's kick things off with the J&P Cycles Pro Singles class. Last year Ryan Wells went from not making the cut on night 1 to winning the main event on night two. Daytona qualifying is tricky with how fast the track changes, but Ryan figured it out quickly and won his 2nd ever Pro Singles race. Ryan is coming into this year with new sponsors but a few of the top Pro Singles riders left for the Expert class, so I would say that he is poised to have winning potential. Gerit Callies is another racer who is staying in the Pro Singles class that should be a podium finisher. The KTM rider spent most of last year recovering from one of the most gruesome crashes that we have seen in our sport in a long time and according to the press that I have been reading, he is ready to go after the title yet again this year. How about our champ,Stephen Vanderkuur? Stephen didn't even go to Daytona last year, yet still won the title. While his Mile and Half-Mile game is what most people talk about, he is no slouch anywhere. With those 3 names mentioned, I am picking them as my podium. In a class of up and comers however, you never know who could do what. I have watched last year's Horizon Award winner JR Addison transform into a short track hero over the winter, and I would say he is VERY ready to prove that he is going straight to the head of the class. After JR, it's time to talk East Coasters. There is no doubt in my mind that you will see a ton of A and B letters in the main event, with Ryan Wells being a "B" also. Look at Jason Isennock, Austin Luczak, Dan Bromley, Joe Bromley, Jake Constantine, Robert Lewis all of them have looked good at Daytona before or have won a Pro Singles race. Then you look at the rest of the class, Dominic Colindres, James Monaco, Wyatt Maguire, Will Cato, Kole King, Brandon Wilhelm, all kids who can show up and do some business. Shayna Texter may not be famous for being a Short Track specialist, but our most popular female in the Pro Singles class is no stranger to short track main events and once in the main, there is a lot of damage that you can do. On top of all of these riders, we have the rookies. Some of the names I don't know, some of them I think can do some great things to kick off their Pro Career in Daytona. I would be watching the names of Blake Claeys and Ben Lowe also. I know I've posted a lot of names, but going into round one especially, I feel like I need to cover all of my bases.

In the Expert class, I feel like we have a wild card with the whole will he/won't he situation withSammy Halbert and his status on racing. With that being said, not only do I think he'll suit up and ride, but I know for a fact that it would be a very good thing for the fans and for his championship hopes if he is there. So, I will include him in my predictions. If he doesn't show, well, egg on my face yet again. Come on, it's the Expert class and all of us know that ANYTHING can happen in Daytona, and usually does. Last year, we had two first ever winners with Johnny Lewis and Matt Weidman. Johnny could have won both nights had it not been for a little contact with the man who would become our champion, Jared Mees. This year, Jared comes in with the number 1 plate, Jake Johnson of course wants it back after having it on his bikes for 2 years I'm sure. Johnny Lewismakes his return and knows he can win, Matt Weidman is in the same position too. Sammy Halbert can win for sure, at one point I thought he was unbeatable in Daytona a couple of years ago. What about Henry Wiles? New team sort of, new mechanic and from the looks of photos, not only will he be bringing his trusty carbureted Kawasaki 450 to the mix, but it looks like a fuel injected Honda as well. Briar Bauman has new Yamaha's to race and now is coming into Daytona with just a little bit of experience at that facility. He could be in the top five for sure. I think who I am most ready to see is Kenny Coolbeth. Kenny has been in Florida a lot over the winter practicing for Daytona and while a lot of people don't think of him as a shorttracker, but don't forget, he won the DuQuoin indoor a couple of years ago, so he'll be tough. Brad Baker, I still can't believe this kid hasn't won a race yet. He has been so close SO MANY TIMES! He deserves it for sure and the talent that he has is astonishing. Jeffery Carver and Rob Pearson are both switching up from Yamaha's to Honda's, and will be right there. Bryan Smith, former Daytona winner, can he rekindle his magic? Mikey Rush is a former Daytona winner also, don't dare count him out! Though Mikey has been off the radar here and there, the talent is still there and on the right night with the right back, he can get back into the mix. Brandon Robinson, Jethro Halbert, John Wood, Kayl Kolkman, Ion Stear, Jake Mataya, seriously I can't predict a main with talent like this! If you were holding a spinning tire tractionizer to my head and forcing me to pick a top 5, I'm betting a little wild and in no certain order taking Jake Johnson, Johnny Lewis, Sammy Halbert, Briar Bauman and Jared Mees. I guess I'll have better guesses this time next week right?

I know I just mentioned Kayl Kolkman above, but keep an eye on him. I have a feeling he is about to have a break out year. He has good bikes, good support and has been doing all of the right things to progress as a racer. On top of that, Kayl is one of the nicest guys in the pits and did the best celebration wheelie that I have ever seen when he won a semi race in Springfield. Hey, wheelies are important!

Kudos to all of the rookie Experts who have switched classes. Last week we mentioned Jake Shoemaker and Dustin Cassidy, but there are a couple more! Adam Bushman and Jake Cunningham are both joining the Expert Ranks and I wish them the very best of luck! Also, best of luck to my buddy Sam Lowe who is back to the Expert class after taking a little time off. He will be on the 48X bike and is a super great guy that is involved in every level of our sport. Sam is a great guy who is excellent on tracks like Daytona, so it sure would be awesome to see him make a main event and drop that letter from his number plate! Speaking of Pro Singles and people moving up,Bert Sumner sent over some VERY interesting statistics regarding points earned in the Pro Singles class. Check it out!
Name
Ttl Pts
Ttl
Podiums
Years
Rookie
Expert Year
Avila, Mikey
503
12
2
2012
Shoemaker, Jake
501
4
4
2013
Baker, Brad
478
20
2
2011
Callies, Gerit
465
15
3
-
Martin, Mikey
453
10
2
2012
Carver, Jeffery
451
14
2
2011
Vanderkuur, Stephen
413
10
4
-
Texter, Shayna
404
9
4
-
Rispoli, James
368
12
3
-

Congrats to Andrew Smith of TNT Honda fame on the arrival of his son Hollis Bruce Smith! Andrew was not only a force to be reckoned with in the Pro Singles series, but also holds things down on the sales floor at TNT Honda/Harley Davidson in Quincy Illinois. You need a new or used Honda or Harley, as soon as Andrew puts Hollis down, he'll hook it up I'm sure!

The guys at Saddlemen are a funny bunch. When I requested a seat for a bike that ended up not getting built, they went all out. It is a true shame that this seat MAY never see a track...or maybe it will? Don't ever mess with your custom seat maker...ever.


However, they built some awesome looking seats for Briar Bauman. Such high quality work from a great company!



CJ Signs is at it again, this time doing up a jersey for Ion Stear to rock in Daytona next week. They can do the same for you! Call 309-676-9999 and tell them Fight For Dirt Track sent you!




Henry Wiles has stated in a few interviews, many of them a few years ago that he had the ice racing championship belt. However, I think he needs to take a trip to Jared Mees' house becauseBell Helmets provided Jared with the real deal! Jared is always a busy guy, but he must have been super busy with his new bike. It looks like he is going to be on, well, at least taking a new 2013 Honda to Daytona with those big number 1's on it. The big thing with the 2013 Honda is that is is a totally new generation bike with Air Forks. If anybody tests a bike and gets it on the right track it's Jared, so I would say it's dialed in already. On top of that, he does have Kenny Tolbert to lean on for set up, so I don't think it will throw off his game much if he does indeed ride the new bike in Daytona.



K&N who is now a proud supporter of the site and this column has introduced 4 new crank case filters to really put the finishing touches on your bikes. Crank Case filters are mandatory in the pro series this year according to the AMA Pro Racing rule book, so why not get something that looks great and functions even better? Available in White, Blue or Red in a conical shape and White online in a round shape, their crank case filter is the perfect addition to your race bike to finish it off, not to mention to be legal. Check it out at www.knfilters.com

Well that is all for me this week. I am selling windshields like a mad man at J&P Cycles in Ormond Beach for the next several days, wait, over a week. If you are in town, come by and buy a windshield. Yeah, I really don't care if you have a cruiser or not. I want to thank everybody who made this trip possible, Aaron Ladd and Ben Macintosh for doing the last minute bike tuning in, Allen Muellerfor letting me use the Memphis Rig as my bike hauler and giving me Thursday off to race the national, the J&P Cycles crew who have stored my bike for me even though they are all super busy, and to Cheryl Hilbert for sending me South with a huge portion of her home made chocolate cake. I do feel like I am forgetting a few things in the column, but I hope you understand how scatter brained I have been the last few days trying to get everything going for this rally. Thank you for reading and have a great weekend!
Best Of's



Best Socks: Hayden Gillim



Best Haircuts: Luke Baird and Cory Koller



Best Exhaust Repair: Tyler Porter