Quality Tools & Controls
Your motorcycle tools, cables, and controls specialist!
Account
News
JGRMX - Indianapolis Results
posted Mar 18, 2013
Tags:
General News
,
Racing
All Article Tags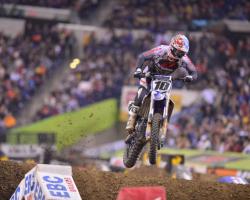 HUNTERSVILLE, N.C. (March 17, 2013) – Round 11 of the 17-race Monster Energy AMA Supercross Championship took place for the 22nd time in Indianapolis, Ind. This was the fifth time the race was held in the Colts Lucas Oil Stadium, previously the event was held in the RCA Dome. The first time the gate dropped in Indianapolis was March 21, 1992, and the race has always been well attended. Last night was no exception as 60,312 fans cheered on the action with SPEED airing the entire event live.
The Toyota/Yamaha/JGRMX Team has been battered with injuries in 2013. Josh Grant is recovering from injury and subsequent surgery, and will return to racing in May at the start of the Lucas Oil AMA Pro Motocross Championship Series. Kyle Chisholm, who was brought into the JGRMX racing family to ride in Grant's absence suffered a violent crash at just his second race with the team through no fault of his own and he too underwent surgery. The team has been displaying Grant's #33 YZ450F at the races in a missing man tribute. Not wanting to leave Chisholm out, his picture was playfully displayed on Grant's front number plate during the Indianapolis event, resulting in a flurry of Twitter and Instagram activity.
Justin Brayton suffered two crashes at Daytona, but thankfully sustained no serious injury. Brayton transferred to the main event from his heat race without incident. In the main event, while in the top-10 during the early laps he briefly fell relegating him to 13th place. Brayton maintained the 13th position to the checkers.
The next round of the tour will be held March 23 at the Rogers' Centre in Toronto, ON. SPEED will again broadcast the race live in its entirety starting at 7:30 p.m. (EST). Supercross Live will begin streaming from Toronto at 2:00 p.m. (EST) on supercrossonline.com.