Quality Tools & Controls
Your motorcycle tools, cables, and controls specialist!
Chat is Offline
Account
Team Babbitt's Monster Energy/AMSOIL Kawasaki's Tyler Bowers Wins Third-Consecutive AMSOIL Arenacross Championship, teammate Zack Ames finishes third overall using Motion Pro Revolver Throttle kits, T3 slidelight cables and Titan throttle tubes, all maintained with professional Motion Pro tools
Mar 19, 2013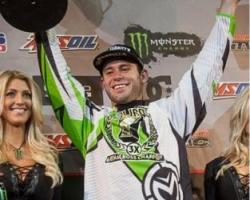 Team Babbitt's Monster Energy/AMSOIL Kawasaki's Tyler Bowers Wins Third-Consecutive AMSOIL Arenacross Championship
Irvine, Calif., (March 19, 2013) – At the conclusion of the AMSOIL Arenacross Race to the Championship, Team Babbitt's Monster Energy/AMSOIL Kawasaki presented by Maxxis rider Tyler Bowers was crowned the 2013 Arenacross champion at Denver Colisium in Denver, Colo. Bowers finished third overall on Friday and second overall on Saturday to win his third-consecutive championship by a mere three points. Zach Ames had a strong showing to finish third overall in the championship, just 11 points down from his teammate. Tyler Villopoto finished fifth overall in the Western Regional Arenacross Lites standings in his rookie season.
Three-Peat
Bowers came on strong on Friday night, winning his heat race and running away with the first main event win. After a 16-man inversion, Bowers started from the back row and was caught up in a second turn crash. He quickly remounted and began his charge for the front, until another rider cased a triple in front of him leaving Bowers with no where to go. Remounting once again, Bowers finished the race in eighth, giving him third overall for the evening. On Saturday, Bowers had to avoid more carnage in the first main event and took second place, allowing the championship to come down to the final main event. The reigning champion knew what was needed to claim his third-straight championship and rode smart to finish third and win the championship by three points.

"My plan was just to ride smart and stay off the ground," said Bowers. "It didn't go quite as planned and there was a bunch of shenanigans in the second main event on Friday. I know how to win races and knowing the points were so close, I just tried to avoid the drama and watch for anyone trying to make a desperate move for the championship."
Pushing Until the End
Ames had a strong and consistent season with Team Babbitt's including two overall wins. Coming into the final round of the Race of the Championships, he sat third overall but within striking distance of the championship. On Friday, Ames won the head-to-head bracket race to earn an additional championship point, which tied him for second in the standings going into the main events. Ames got the holeshot in the first main event and led the majority of the race until a slight bobble allowed his teammate to sneak by giving Ames a second place result. Unfortunately, in the second main while Ames was making his way into third, a rider blocked him and took them both down. By the time he got his bike untangled from the other rider, they were a lap down and he finished 11th. On Saturday, Ames pushed to make up as many points as possible. Despite finishing 3-2 in the main events it was not enough to make up the points needed placing him third overall in the championship.

"I'm proud of my season," said Ames. "It was definitely my best season yet, but I'm a little disappointed at the final outcome because we had worked hard at the beginning of the season just to have those points taken away. I bettered my number by one this year, so I'm stoked on that and look forward to next year."
Rookie Season
Villopoto started off the Western Regional Arenacross Lites season with a win in Tulsa, Okla., but was unable repeat that performance as nagging injuries kept him from riding at 100-percent. On Friday in Denver, Villopoto achieved a top-10 finish in the Arenacross class and a fifth place in the Arenacross Lites. On Saturday he finished just outside the top-10 in the Arenacross class, but was able to finish the Western Regional Areancross Lites season with fifth overall. Villopoto has proved he has the speed to win and will look to return next year healthy and ready.
KX Proof
After winning three championships in a row, Bowers attributed his success to the performance and support from Kawasaki. Team Babbitt's Monster Energy/AMSOIL Kawasaki presented by Maxxis is known as the top team in the paddock with the best equipment, which results in championships year in, year out.

"I'm on the best bike out there and the best team," said Bowers. "I could not race at the level I do without the support from Kawasaki and Team Babbitt's. We were constantly up front every weekend, and if it wasn't myself or Ames winning, it was Kawasaki riders like Michael McDade. The 2013 KX™250F is an amazing bike."
Results
AMSOIL Arenacross – Round 10
Denver Colisium – Denver, Colo.
March 15-16, 2013

Arenacross Class Overall – Friday
1. Kelly Smith, KTM (4-2)
2. Jeff Gibson, KTM (3-5)
3. TYLER BOWERS, BABBITT'S MONSTER ENERGY/AMSOIL KAWASAKI (1-8)
4. Willy Browning, KTM (5-6)
5. ZACH AMES, BABBITT'S MONSTER ENERGY/AMSOIL KAWASAKI (2-11)
6. Michael Willard, KTM (7-7)
7. Daniel Blair, Suzuki (12-3)
8. GARED STEINKE, KAWASAKI (11-4)
9. MICHAEL MCDADE, KAWASAKI (15-1)
10. CHAD COOK, KAWASAKI (8-10)

Arenacross Class Overall – Saturday
1. Jeff Gibson, KTM (1-1)
2. TYLER BOWERS, BABBITT'S MONSTER ENERGY/AMSOIL KAWASAKI (2-3)
3. ZACH AMES, BABBITT'S MONSTER ENERGY/AMSOIL KAWASAKI (3-2)
4. MICHAEL MCDADE, KAWASAKI (5-6)
5. Kelly Smith, KTM (4-7)
6. Willy Browning, KTM (7-5)
7. Nathan Skaggs, KTM (6-8)
8. Michael Willard, KTM (12-4)
9. Daniel Blair, Suzuki (8-10)
10. Tanner Moore, KTM (11-9)

Arenacross Class Race to the Championship Standings
1. TYLER BOWERS, BABBITT'S MONSTER ENERGY/AMSOIL KAWASAKI, 146
2. Jeff Gibson, KTM, 143
3. ZACH AMES, BABBITT'S MONSTER ENERGY/AMSOIL KAWASAKI, 135
4. MICHAEL MCDADE, KAWASAKI, 112
5. Kelly Smith, KTM, 108
6. Willy Browning, KTM, 98
7. Daniel Blair, Suzuki, 88
8. Nathan Skaggs, KTM, 85
9. Dave Ginolfi, KTM, 82
10. GARED STEINKE, KAWASAKI, 69

Western Regional Arenacross Lites Standings
1. Maxx Malatia, Honda, 106
2. Kyle White, Honda, 87
3. Michael Lang, Honda, 86
4. Tanner Moore, KTM, 81
5. TYLER VILLOPOTO, BABBITT'S MONSTER ENERGY/AMSOIL KAWASAKI, 69
6. Steven Mages, KTM, 56
7. BRANDON GLENN, KAWASAKI, 47
8. Devin Reed, Honda, 36
9. BRIAN ALQUIST, KAWASAKI, 33
10. Travis Merrill, KTM, 30
General News
,
Racing
All Article Tags