Quality Tools & Controls
Your motorcycle tools, cables, and controls specialist!
Account
Maria Forsberg gets back on top of the X-Games box on her Motion Pro supported FMF/KTM
Jul 1, 2013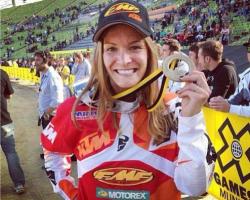 Maria Forsberg got back on the top of the Women's Enduro X podium with a win in Munich. The American has won Gold at X Games LA twice but had been shut out so far in 2013. Forsberg seemed to be on a mission in Germany and took the lead on the first lap and held it to the finish despite a few close calls, including a tip over in a rock section on the final lap. Spain's Lai Sanz, the winner of the previous two X Games events in Spain and Brazil closed to within feet of Forsberg on the last lap before she had her own problems in the same rock section and stalled. Sanz still held on for the Silver medal and Sandra Gomez Cantero, the sister of the Men's Silver medalist, took the Bronze. Maria Franke and Rachel Gutish rounded out the top five.
2013 X Games Enduro X, Munich, Women's Final Results
Maria Forsberg
Lai Sanz
Sandra Gomez Cantero
Maria Franke
Rachel Gutish
Chantelle Bykerk
Tara Geiger
Kacy Martinez
Steffi Laier
Jolene Van Vugt
Watch the video of the Women's final here: https://www.youtube.com/watch?v=s0Y8H08x7AM&feature=c4-overview&list=UUxFt75OIIvoN4AaL7lJxtTg
General News
All Article Tags